If you have been considering a wide format laminator for your print shop, D&K Laminators are made for professionals like you. It gives you the ability to laminate large format products like maps and floor graphics as examples.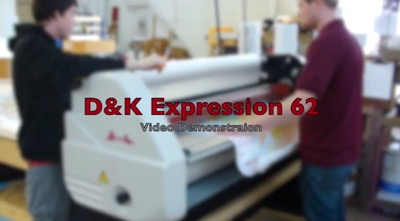 Watch the video to see how it works and the primary features of the Expression 62 wide format laminator. The D&K Expression 62 laminates, encapsulates and mounts prints up to 61" wide. It can be used for a variety of applications including:
Acrylic Displays
Books
Cards
Documents
Flexible Displays
Framing and Mounting
Outdoor Signs
Rigid Displays
Trade Show Displays
Vehicle Graphics
Window Graphics and
Floor Graphics
The video demonstration shows how to laminate a large wall map. Since the map is a large document, the Expression 62 comes equipped with a pair of holders that allows you to roll your large document and feed into the machine. The operator feeds the document into the rollers to ensure it is evenly distributed for a perfect finish.
You can control the temperature of each roller with upper and lower temperature adjustments. The expression 62 can be adjusted up to 300 degrees F. The substrate and film will determine what temperature you need to adjust your rollers. Follow the film guidelines, but you may have to play with it to get it right.
The Expression 62 has fast set-up and as you can see easy operation. It can accommodate substrates up to 1/2" thick. It has spring loaded adjustable pressure. You can also purchase an optional slitter for trimming. Or, you can use a guy with scissors like we have here.
The working width is 61" for the Expression 62 wide format laminator. it has a 50" height and the laminator's full width is 80". It includes a stand and also a release liner rewind.
Optional equipment includes a foot switch for operation and the before mentioned slitter kit.
Related Posts from The Print Finish Blog