The holidays are over, and a new year is already under way. Did you make any resolutions? Was one of them to get more done in 2019? What if we told you there is a brand new machine that can make your operation more productive?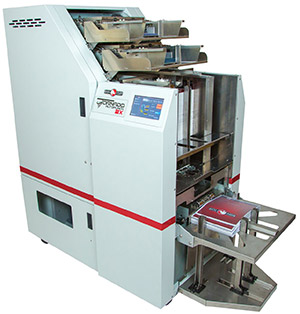 Lloyd's of Indiana is excited to introduce the Tornado Autopunch EX® by Rhin-O-Tuff®. It slices! It dices! It… well, it automatically collates and inserts covers and tabs into content pages before punching and stacking books ready to be bound, freeing up valuable time in your production process for better things. How much time? Head-to-head comparisons show an average 40% increase in process efficiency over manually collating and punching books.
What is it?
"The Rhin-O-Tuff® Tornado Autopunch EX is an industry breakthrough system that uses BDT Print Media's advanced media handling technology to automatically feed, collate, punch and deliver offset book stacks ready for binding in a single platform."

Rhin-O-Tuff literature
Packaged as an off-line unit, the Tornado is perfect for on-demand, short run jobs. The 7″ touchscreen display shows every detail of the process, making it easy to program exactly how you need the run to work.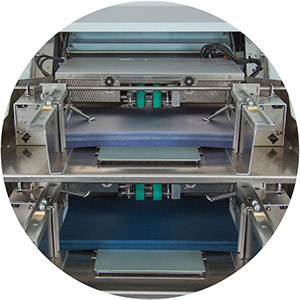 Place a stack of printed pages in the main feeder bin. Place covers, or tabs, or whatever in the dual interposer bins. Once the job is programmed in, the machine automatically collects everything together exactly as you want it, punches it, then delivers the punched books into a neat, offset stack. You still have to do the final binding, but how much time can you save if you don't have to manually collate that stack of 200 books?! The Tornado Autopunch EX works while you can go do something else, like bind the previous job or get the next one ready. It's like hiring an assistant that never takes potty breaks.
Unique features and benefits
World's First Automated Collating Punch using Patented BDT Tornado Technology
A single off-line automated collation and punching platform to meet the needs of your on-demand print environment with a quick return on investment. No more manual collating of covers, index tabs and inserts. No need for manual separation of book stacks or colored slip sheets between books.
Advanced Media Handling Technology
Powered by BDT's patented Tornado Technology to separate, lift and transport the widest range of media, including printed media and other book components like covers, tabs and inserts, reliably minimizing downtime. No more manual punching of covers, tabs and inserts.
Widest Media Range in the Industry
The system handles media from 60gsm – 312gsm, including light porous/heavy coated print media and specialty binding media like plastics, vinyl, and textures.
Automated Interposing of Covers/Index Tabs/Inserts
Two Interposer Bins hold up to .75" (19mm) of media, auto-collating front/back covers, inserts and index tabs into the book stack prior to punching. No manual collation required.
Accommodates Mixed Media Run on Digital/Offset Printers
High-Capacity Main Bin holds up to 2500 sheets, including mixed media.
Patent-Pending Paper Accumulation Technology
Designed to accumulate covers, tabs and document sheets and auto-adjust the punch lifts depending on the type of media being run for maximum punching performance.
Heavy-Duty Auto-Punch Technology
Proven Rhin-O-Tuff technology punches up to 10,800 sheets per hour, improving throughput.
Offset Book Stacks Ready for Binding
Book stacks exit collated and ready for binding, enabling operators to start the binding process while the punching job is still running, saving time and labor. Since the books, covers, tabs, etc. are collated and punched, simply grab the offset stack and start binding. No slip sheets. No manual insertions.
High-Tech die sets
As if the Tornado Autopunch EX couldn't get any better,
Rhin-O-Tuff added RFID chips to the die sets. Simply insert the die set and the
display shows which die set you have in operation, as well as keeps track of
punch cycles for each die set. If you run a busy shop, you never have to wonder
which die set is loaded before hitting the start button.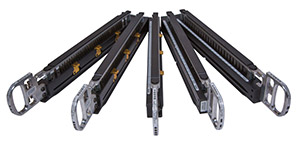 Die sets are available in 15 different standard configurations, perfect for comb, coil, wire, VeloBind and loose-leaf binding. All dies offer disengageable pins to create the perfect punch pattern in a wide variety of paper sizes. And when it's time to change dies, a convenient compartment safely holds up to 4 die sets in the machine. Add the one in use and you have 5 die sets ready to go. How efficient is that?
Inquire within
As you can tell, we're excited about this revolutionary machine. For businesses that bind a lot of books, the Tornado Autopunch EX will free up valuable time in the process. If you want to get your hands on one, or just have questions, just go to lloydsofindiana.com or give us a call at 877-626-6848.
Related Posts from The Print Finish Blog