We had a school customer come to us after investing thousands into a huge copier/printer. It was a school in Indianapolis who quickly realized that their "do-it-all" printer and copier couldn't do much of anything other than print, copy, collate and add a fold. That left a bunch of other tasks requiring human intervention, meaning hours of work.
This school had close to a thousand students, so when they needed to send information out to parents, that meant a thousand envelopes had to be stuffed with a thousand sheets of paper that had to be folded and a thousand reply cards inserted, and a thousand mailing packages to assemble and seal. Although their super-duper printer could do a simple tri-fold, it couldn't assemble packages or seal them for mailing, which meant they had to create the traditional assembly line of administrative staff. (Yay!!!)
Don't Hate, Automate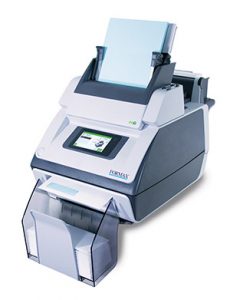 This specific client had to do a monthly mailing, so every month the office staff had hours of envelope stuffing to look forward to. Fortunately, there are machines available to automate a lot of those processes, seriously reducing staff hours needed for menial tasks.  Today, this is done quickly and efficiently with an envelope stuffing machine that also does some basic folds at the same time.
We recommended the Formax FD 6104 Inserter. With two sheet feeders and an envelope tray, the FD 6104 automatically folds paper up to legal size and inserts it into an envelope. So now, the school administrative staff only have to print the documents, place them into a paper feed and push a button. Set it up to insert two different documents or cards into one envelope, ready to seal and stamp, but we have solutions for that, too.
It just makes sense
The Formax FD 6104 Inserter is not cheap, but consider the cost of the hours spent stuffing envelopes. If you send mail regularly, you will most likely find the investment in automation will pay for itself in short order.
If you want more information about the FD 6104 Inserter, or a variety of other equipment dedicated to document handling and finishing, don't hesitate to give Lloyd's a call at 877-626-6848. We are happy to recommend the perfect equipment to meet your needs.
Related Posts from The Print Finish Blog