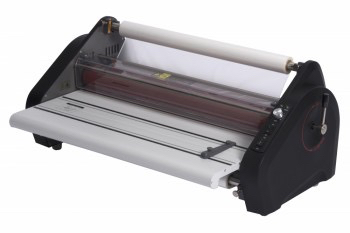 As we were talking yesterday, the question asked, "do more schools use pouch laminators or educational roll laminators?" The answer is educational roll laminators are more popular now. Since ID Badge Printers have taken over the schools, pouch IDs no longer dominate the school system. So, most schools use roll laminators to protect their documents.
A new addition to Lloyd's lineup is the Phoenix 2700-DH. It is an affordable educational roll laminator for any school. It has a tabletop design so it can fit in small areas with up to 27" in width.
Because of its size, it has the versatility to laminate a variety of items like large posters, 8.5 x 11 documents, art projects, bookmarks, or anything a school or teacher would like protected. The upfront costs are very much within a school's budget along with the roll lamination, as it uses either 1.5 mil or 3.0 mil thickness. It can accommodate roll lamination in either 1" or 2 1/4" core laminating film.
Since the machine will be used in a school setting, safety is a big concern. In addition, it also has energy saving features, as well. To protect your staff or students, it has an advanced safety shield, a safety feed table, and a standby mode. Standby mode turns on when the machine has been idle for 1/2 hour. When it goes into standby mode the temperature drops on the rollers. After 2 hours, it just turns off.
Here is a list of all the features you will find in the Phoenix 2700-DH educational roll laminator, including:
Laminates up to 27" wide
Auto shut off with 175-degree hold temperature
Adjustable speed control
Reverse feature
Silicone heated laminating rollers
Feed tray with paper guide
Accepts 1.5 to 3.0 mil films
Adjustable supply roll tension
Clear polycarbonate safety shield
Chain & sprocket drive
Heavy-duty 24V DC motor
Easy alignment of top and bottom rolls with standard widths marked on supply shaft
You can find the new Phoenix 2700-DH at Lloyd's on sale now for back to school.
[box]
Available for only $1495.00
[/box]
Related Posts from The Print Finish Blog