Dry Mounting System Wide Format Laminators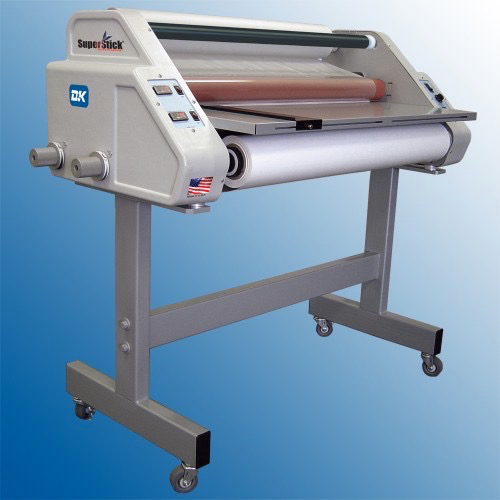 Wide format laminators are designed for digital and inkjet printers.  As we all know by now, digital printing is great for short run jobs. Yet, as the technology improves and costs start to come down, we are starting to find more print shops moving away from traditional off-set printing to digital printing.
Digital inks react differently to traditional finishing techniques like laminating or UV coating. Both your lamination and UV coating need to be formalized to specifically adhere properly to a digital print product.
Wide format laminators make it easy to finish digital projects in a timely manner. At the same, laminating can provide several creative options for customers to finish marketing material, print images with specialized finishes. You don't have to finish with either gloss or matte only. You can laminate with textured finishes, soft touch finishes and more.
D&K and Ledco both manufacture wide format laminating equipment from 25″ to 60″ machines. If you own or operate a sign shop or digital reproduction facility a large format laminator for finishing and dry mounting your prints makes a must-have tool for your print shop.
Wide Format Laminators for digital printing
Laminate and dry mount trade show displays, signs, vehicle graphics and much more. Apply gloss, matte, and textured laminate. Wide format laminators are available that run hot (thermal) and cold (pressure sensitive) material and dual application. Quickly switch from thermal to pressure sensitive materials with the Ledco Digital 42 or 60 or a D&K Expression 62 model without waiting for heat up or cool down time.
Digital print is pretty much here to stay. Wide format laminators will play a big part in helping you finish your prints, posters, or documents moving forward.
[box]
D and K Expression™ 62 Plus Commercial Roll Laminator
Available for $11,000
[/box]
[box]
Ledco Digital 60
Available for $18,500
[/box]
Related Posts from The Print Finish Blog