Wide format laminators and dry mounting systems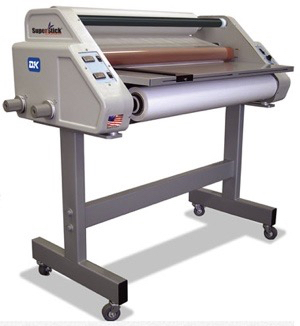 Wide format laminators are designed for digital and inkjet printers. Digital ink reacts differently to post print applications than traditional print. Not only do you have to be aware of how your lamination will respond to digital print, but you will also need to know what wide format laminators will work best.
D&K, Royal Sovereign, and Ledco manufacture wide format laminating equipment from 27″ to 60″ machines. If you own or operate a sign shop or digital reproduction facility, a large format laminator for finishing and dry mounting, your prints must be in your shop. There are a lot of different sizes and textures available in laminating to help your customers stand out above their competitors.
Wide Format Laminators for digital printing
You can laminate and dry mount trade show displays, signs, vehicle graphics and much more. There are many different textures available as well. You can apply gloss, matte, and textured laminate. Wide format laminators are available that run hot (thermal) and cold (pressure sensitive) material and dual application. Quickly switch from thermal to pressure sensitive materials with models like the Ledco Digital 42 or 60 model without waiting for heat up or cool down time.
There are several brands out there to choose. We carry the most popular for many printers including:
If you are trying to expand your offerings for your print shop, having a wide format laminator in-house is something to consider. It gives you some versatility and flexibility in helping clients with their marketing campaigns.
Related Posts from The Print Finish Blog