Business card slitters still have a place in your print business. It's never a good idea to give your business to competitors. If you provide them with the business card business, they may start taking other business away from you. Why risk it? If customers need business cards printed, go ahead and do them, even if you have to take a loss or break even. It's the other business you do not want to lose.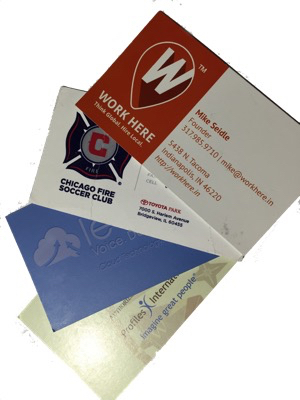 The business card is still a valuable marketing tool after all these years. If you're a full-service shop, you're likely printing business cards for clients that use your other services. If you're not, you may be missing out. Depending, it could be a nice little revenue stream that requires tiny work, and even less up-front investment. Picking the right business card slitter is the start.
So many business card slitters, which one to pick?
When it comes to business cards, you must consider volume and automation. The more volume you expect, the more automated you probably want to be. Automated business card slitters like the HS-3000 will cut and stack 1,000 cards in five minutes ready to box and deliver. Or, you can look at business card slitters from both MBM or Martin Yale for automated solutions. When you're doing cards for an entire company that's just gotten a new logo or street address, the speed and accuracy of a machine like this come in handy.
The thing to consider when buying either model is the format in which you'll print the cards in the first place. 8-up, 10-up, 12-up, gutter, or no gutter are all options. Just remember, the flexibility and speed your print shop has in cutting business cards may just keep your customers from exploring purchasing one of these machines on their own. These devices are so easy to operate; they're sold as "ideal for the office."
Manual models are still efficient. They don't give you the speed and production of an automated machine, but they have the advantage of being extremely economical. The HS100 business card slitter is still very popular and used for business card production.
Don't let that business card revenue walk away. It's a risk of losing other business from clients to a competitor.
Related Posts from The Print Finish Blog