Are you a small UPS Store or small print shop that is trying to find value added services to offer your customers? One area of services that you could provide is document binding and binding machines are the tool to help you. So the question you will next need to ask yourself is what kind of binding do you want to offer?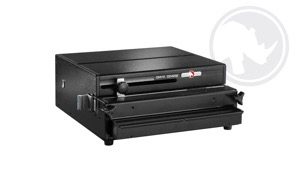 So what kinds of documents will your customers need to have bound: the employee manual, the book, the instructional guide, the schematics, the proposal? They've all got to have some binding to meet the customer's budget, the reader's needs and a style that looks good. So what kind of binding machines to consider?
Some binding machines will give you the flexibility in offering a different style of binding spines and others are just inexpensive. You may even want more than one machine, or find a small machine that uses interchangeable dies. First, you need to determine the type of binding that you think you'll use most often.
Once you've chosen a couple of binding methods that you'd like to offer at your shop, consider flexibility, speed, and cost.
You'll certainly find flexibility with binding machines like a combo system or interchangeable die system. A single purchase will allow you to do both comb, wire or coil (depending on the machine). However, keep size in mind. With comb or coil systems, you may not want to limit yourself to standard 8 1/2″ x 11″, so investigate the machines that can accommodate 14″ or 17″ sheets. Speed is affected by manual or automatic operation and the number of sheets that can be punched at one time.
The most crucial consideration, however, is the question of cost. What you can sell and what your customers are willing to pay for may limit your choices. A perfect binding system is expensive initially but costs little in upkeep. The Unibind thermal system itself is inexpensive considering the excellent end product, but supplies are comparatively high, per piece. So, remember not to look merely at the machinery that makes the binding happen. Look at the plastics and metals that make up the binding.

Related Posts from The Print Finish Blog