The question of whether to outsource shrink wrap  or insource shrink wrap is a topic of rampant debate among the business world these days. Both methods have their advantages and disadvantages. In this article we are going to discuss the difference between outsourcing packaging and insourcing packaging using shrink wrap machines. No one can deny that packaging is an integral part of a business, and to ignore or neglect this crucial detail can lead to serious problems. Therefore, it is essential that business owners find the best solution for their packaging needs. So what are the pros and cons of outsourcing and insourcing packaging?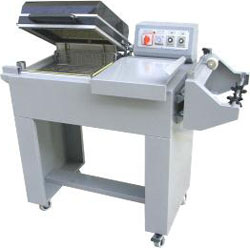 Outsourcing pros
When you choose outsourcing your shrink wrap you are given more time to focus on the core of your business and you spend less time worrying about the day-to-day problems that arise with packaging your own products. You leave those worries to the outsourcing party, who specializes in this sort of packaging and therefore is capable of dealing with any problems that may arise.
Outsourcing can help to reduce costs by giving you a fixed cost for a particular set of services.
Allows you access to packaging expertise when you need it.
Packaging supplies will remain consistent in their standards which will reduce audit of suppliers.
Outsourcing cons
You have to take into account that when you outsource your packaging to another company, you are not the only customer they are dealing with. Will your orders take priority? Will they be completed on time?
If the outsourcing party are packaging other products in the facility there could be a risk of contamination of your products. Check that the outsourcing party deals primarily in your type of business.
Communication and management issues could arise due the inability to work face to face.
Insourcing pros
When you choose to do your shrink wrap packaging in-house, all decisions are under your control meaning that you can implement all operations in line with your company's policies and procedures.
Allows you to develop your staff. Work closely with your staff, develop good relationships and grow together as a team. Surely a business where the staff feel valued will do better than a business where the staff feel like no more than a pawn in your game.
Allows you to set your own standards. No worries about sloppy workmanship. You can implement your own high quality standards.
Insourcing cons
While this option has many advantages it can be costly for some businesses to implement. The investment in staff training, machinery and so on can often be too much.
The business may possess insufficient knowledge or technology to implement in-house packaging. Shrink wrap machines are expensive and rapidly changing. It may be better to leave it to an outsourcer.
Related Posts from The Print Finish Blog