If you use a Lassco Round Corner Cutter, you will find the machines themselves are well manufactured and built to last. The only thing you will need to potentially change is the round corner die.
The following chart outlines the sizes and cuts available: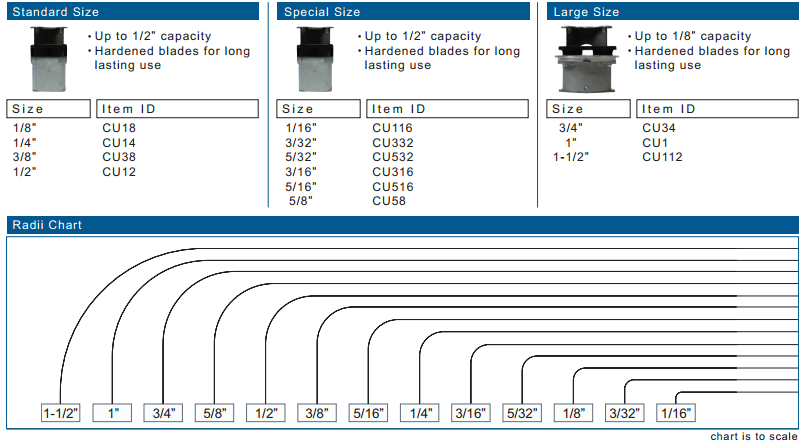 Lassco makes 3 types of blades for its round corner cutters. They include:
Standard Dies
Special Dies
Large Dies
Standard dies to apply to the following machines:
Lassco CR-20
Lassco CR-50B
Lassco CR-50
Lassco CR-50XP
Lassco CR-50P
Lassco CR-55
They come in the following sizes:
What will dull the die is if the machines are not cleaned frequently from debris that is produced after a cut. So, make sure you clean them up.
Special round corner die is also available on all the machines and comes in the following sizes:
1/16"
3/32"
5/32"
3/16"
5/16"
5/8"
The large round corner die are only available for the bigger machines like the:
Lassco CR-50
Lassco CR-50XP
Lassco CR-50P
Lassco CR-55
Lassco is a great investment on Round Cornering because your die investment can be used across multiple machines.
Take advantage of the Lassco End of Year sale going on right now at Lloyd's of Indiana. Get blowout pricing on Lassco Round Corner Machines and round corner dies.