Lloyds of Indiana spent the day at the Chicago Print 2017 Trade Show meeting some of our vendors. We also talked to many of them about our new REVO Eco-Coat UV Coating Fluid. It was a good day, as there is some exciting news from some of our vendors with new products and upgrades to existing products.
New UV Coating Machine
The big news is that Tec Lighting has upgraded its 14" Mini Coat UV Coating Machine. They have streamlined its design for easy roll replacement cleaning and adjustments. It's a beautiful machine and will retail for $12,700, available through Lloyds of Indiana.
[box]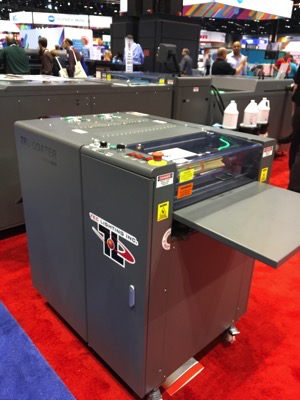 Size = 14″
Handfed
Price= $12,700


[/box]
New REVO ECO-Coat UV Coating
Lloyd's of Indiana has also introduced its long awaited NO ODOR UV Coating fluid. We call it ECO-COAT. It currently comes in High Gloss and Matte and is now available on our website.
[box]
It works with pretty any digital print engine including waxy finishes you can find on Ricoh or Konica-Minolta. It retails for $289.00.
We offer an introductory sale. When you BUY a 5-gallon bucket of ECO-Coat 3006 or 3636, get a FREE package of Nubtex UV Coating Machine static free cleaning towels.
[/box]
NEW Akiles 27″ Educational Roll Laminator
Akiles introduced a new 27″ roll laminator for the small office and education market. It has a 1″ core and can laminate up to 5 mil film. It's not ready to sell but should make its entry into the market in the next couple of months.
New pricing and offers available on our website. Check back for more specials from Print 2017 Chicago.
MBM Foilglazer – NEW
MBM has introduced a new laminator that applies foil glaze onto a substrate and then allows you to laminate it. So, it does spot foiling on an automated sheet feeder. You can then have it laminate the sheets. It's a nice addition to their offerings.
10% OFF all Formax Machines
For the show, Formax has put all their machines on sale with a 10% discount. Shop now and save on Document Folders, Document Sealers, Envelope Stuffers, Paper Cutters. They featured a new paper cutter that is unlike anything on the market. Offer good through September 26.
[box]Check out their document folders feature the FD6204
[/box]
D&K Wide Format Laminator Specials
You can also take advantage of D&K show offer through September 26. Buy a D&K wide format laminator and get 2 free rolls of film and a free roll caddy with your machine.
[box]

[/box]
Hurry these deals only last for a short time after Print2017 Chicago.
Related Posts from The Print Finish Blog