Paper Creasing Machines versus Folding Machines
Paper creasing machines solve the problem of cracking when you are running a digital print shop. One of the problems with any kind of print is that if you try to fold an ink-heavy page, like a solid black cover, the ink will crack and break. Folding puts a lot of pressure on a sheet and stretches the ink laying across its surface. The last thing you want is an unprofessional finish to an otherwise smooth piece, right?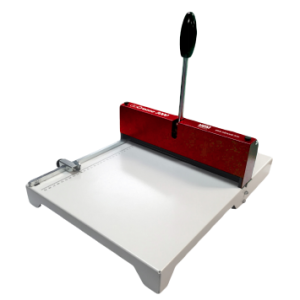 To ensure a crackless fold and to maintain image integrity, pages need to be creased before they're folded. Scoring weakens paper fibers by indenting fold lines. The direction of your paper grain is probably the single most important factor to take into consideration when scoring paper. Scoring across the paper's grain encourages the sheet to crack rather than the ink. This makes your fold look clean and allows sheets to fold flatter.
There are many different paper creasing machines available on the market today that specifically address digital print. You can find inexpensive manual tools to start and graduate to more automated machines as your business grows. Perfect for a small UPS store or print shop is either a Martin Yale CR818 Manual Paper Creaser or an MBM GoCrease 3000. Both machines are pretty simple to use and do not take up much space.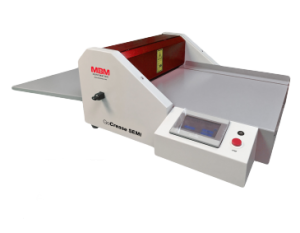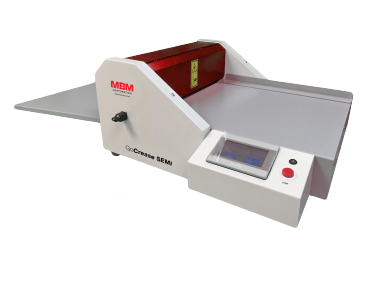 If you need something with a little more horsepower, both Martin Yale and MBM offer automated machines that can process stacks of paper at a time. MBM GoCrease SEMI Paper Creaser and Perforator does both creasing and perforating. Martin Yale's Count iCrease Pro Paper Creaser is a similar machine as well. Both manufacturers can take you from small to large volume with automatic feed capabilities.
When shopping for  paper creasing machines, you want to consider the number it can be programmed for on a single sheet, its speed, and of course, the width of paper it will accommodate. Most important, you need a paper creaser that will keep even your heaviest folds, crackless under pressure.
Related Posts from The Print Finish Blog