Alternative Binding Machine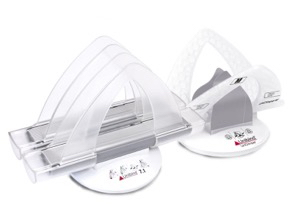 Are you looking for an affordable alternative to a punch binding machine system? There are some affordable resin systems out there that use heat activated glue to bind documents together. There are a couple of systems available on the market today. One is Perfect Binding, and the other is Unibind. Today, we are going to take a look at Unibind.
What environment is good for a Unibind Binding Machine System?
If you are a small print shop like a UPS Store or a Mailbox Store that offers professional finishing services, a Unibind is a good option to have. The machine itself is not that expensive, and your return on investment is pretty quick. The starting binding machine is a Unibinder 7.1 which is only $709.00 to start.
If you are a larger print shop that is doing more volume, you may need to purchase a different setup to manage multiple books at a time.The Unibinder 7.2 can handle up to 16 documents at a time for heating and cooling. This binding machine is for serious volume.
What kind of covers are available?
Unibind offers a variety of covers that are flexible and easy to use including:
These are basic steel spines which allow you to use any cover or back for your document. You just put the whole document into the spine. Heat up the resin, and it will bind the materials together. It's a perfect solution for employee manuals, training manuals or seminar presentations.
SteelCyrstal covers are clear matte covers that come in multiple colored spines. Easily customize your presentation.
For those great million dollar presentations that make stand out from the rest, the hardcover books do the job. They are high-quality finish with a window that gives your prospects, shareholders or investors a different takeaway.
Unibind is a great alternative to traditional binding machine systems. There is no waste from punching paper. You just print, jog and place documents in your covers or spine. Put them on the heater, and you have a bound document.
Related Posts from The Print Finish Blog