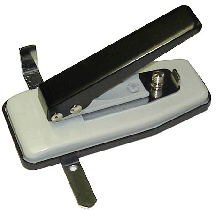 Did you just get a new project into your print shop and you realize you don't have an ID slot punch? What kind do you need? There are more than just one of course.
The slot punch models at Lloyds of Indiana range from heavy-duty handheld tools to multi-purpose, table-top units designed to take on plastic, PVCs, thick papers and more.
What Types Do We Have?
We have three different kinds of ID slot punches:
1. Our handheld and heavy-duty Stainless Steel ID Slot Punch – it works like a single-hole-puncher, and it's ideal for quick or small jobs done right at the counter (think luggage tags, parking cards, ID tags, etc.).
2. The Multi-ID Card Punch – a 3-in-1 table-top unit that can do slots, holes and even corner-rounding. This bad boy can punch up to 30mil of hard plastic.
3. Our ID Card Slot Punch – a table-top tool that works like a stapler, but with built-in and adjustable guides. It can punch PVC, laminates and more.
So, How Much?
Lloyds of Indiana's ID slot punches ranges in price from $43.00 to $79.95. In other words, they're affordable. They're also necessary if you're working with ID cards and want to take them out of the wallet and onto neck lanyards, shirt clips or belt ties.
Related Posts from The Print Finish Blog