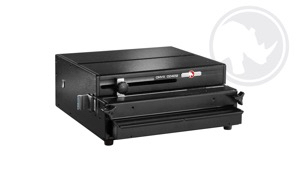 If you are a print shop or a large office that is binding multiple documents a day, a Rhin-O-Tuff Binding machine is what you may need. It is a heavy duty system that is perfect for large volume offices or print shops. It operates with interchangeable dies making it versatile for any punch you may need. It has the best warranty of any commercial binding system on the market.
Some of the biggest print shops in the country use Rhin-O-Tuff Binding Machine System. They offer a variety of different machine sizes depending on how much you need to punch. Most binding machines will punch 10-20 sheets at a time. Rhin-O-Tuff machines on the low end start up to 25 sheets up to 38 sheets depending on what machine you buy.
They do this with an interchangeable die system that allows you to punch in multiple styles including spiral binding, comb binding, wire binding, or velo binding. You can also get a die for 3 hole punch, calendars, and binders.
It has by far the best warranty on the market. Check out the following chart that outlines the differences between Rhin-O-Tuff and GBC, as an example:
Model
Suggested
Retail
Paper
Size
Punch Capacity
(coil 20 lbs)
4:1 Round
Round Punch Capacity
Averaging 8
Different Die Patterns
Modular
Design
Standard
Warranty
GBC Magnapunch 2.0
Onyx HD7700 Ultima
$7,084
$4850
14″
14″
29 sheets
38 SHEETS
33 sheets
45 SHEETS
NO
YES
1 Year
3 YEAR
GBC Magnapunch
Onyx HD7000
$4,595
$4,150
13.5″
14″
20 sheets
30 SHEETS
29 sheets
41 SHEETS
NO
YES
1 Year
3 YEAR
GBC MP2500ix
Onyx OD4012
8 1/2 X 11 to A4
8 1/2 X 11 to A4
17 sheets
30 SHEETS
22 sheets
30 SHEETS
29 sheets
30 SHEETS
No
YES
90 Day
3 YEAR
GBC MP2000C4
Onyx 4000PLUS
$2,274
$1,795
8 1/2 X 11
8 1/2 X 11 to A4
14 sheets
20 SHEETS
NA
20 SHEETS
NO
YES
90 Day
3 YEAR
As you can see, against GBC. Rhin-O-Tuff machines are more versatile and have the best warranty in the market. To top it off, they are Made in the USA.
Related Posts from The Print Finish Blog