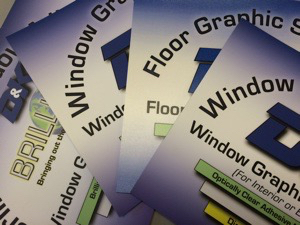 Consider this, you are planning a large direct mail campaign for your customer. The agency of record comes in and asks for your help in planning the materials to be used in the campaign. So, we could go cheap or we could get creative. Why not pick an overlaminate film that will stand out by its touch?
Direct mail is making a comeback in the printing business. With the new materials available to offer customers, you can get pretty creative with literal "touch marketing." A person gets a stack of mail in their mailbox. As they are flipping through the stacks, they come across this one piece that has an interesting texture that is not like the rest. They pull it out and consider its message.
How do you do this?
D&K Group has some pretty interesting overlaminate films that can do exactly what I just described. Their Brilliance line carries a Luster Vinyl that has a unique touch to it that is separate from traditional gloss over laminate or gloss UV coating. It makes the direct mail stand out from the rest just from the touch alone. Now, the agency needs to design a great message and call to action, but you can offer the material to make it work.
There are other overlaminates that have some unique qualities included in their Superstick and Expression line of overlaminates. If your customer wants results, give them the material that can move people to take action. Check out some of the overlaminate film from D&K Group at our D&K Store.
Related Posts from The Print Finish Blog