Everyone is always looking for good marketing ideas to promote their business. Let's face it, good visual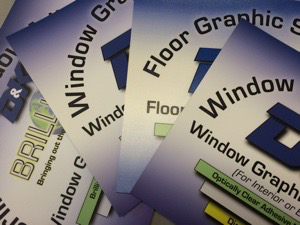 marketing draws eyeballs and can get people to take action. Think about some of the displays you have seen to bring you into a store, a tradeshow booth or to pick up a marketing piece. Over laminate film has a variety of uses that can be used for marketing.
1. Cards
Cards make great direct mail pieces. Today, with digital print, you can get real creative with your direct mail pieces. Touch also can play an important role. If you have a direct mail piece that stands out from the rest, a film that is sensitive to touch can also be your ally. If all they are feeling is card stock and paper, an overlaminate with a soft touch may be what they pick out of the pile.
2. Outdoor Signs
Outdoor signs need to catch the eye of the pedestrian or driver. It is important to protect the image you are displaying from the elements including rain or snow. Most important, UV light is the killer of outdoor graphics. So, an overlaminate with UV inhibitors is a must have.
3. Trade Show Displays
If you do the trade show circuit each year, you know how your booth material can get damaged during transit. You want your trade show displays to be durable. There are some interesting overlaminates that can make your trade show displays stand out. There are some cool textures like sandtex, canvas, brushstroke, textured in addition to gloss and matte finishes.
4. Window Graphics
Window graphics is a great way to run weekly, monthly or seasonal specials to draw people into your store or restaurant. They are easy to produce and easy to install. Good design will draw people into the window graphic.
We carry a large selection of overlaminate film at the D&K Group shop on our website. If you need to help your clients with direct mail, outdoor signs, trade show displays or window graphics, check it out.
Related Posts from The Print Finish Blog