Let's face it, most of us spend a lot of time on the road. Travelling to and from work, running errands, taking the kids to practice, that's a lot of staring at other vehicles. If you own a local business, just think of all the other people sitting in their own cars looking for something interesting to stare at. Why not give it to them?!
Mobile Advertising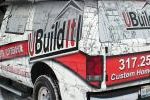 In marketing terms, an impression is any time someone looks at your ad. According to the Outdoor Advertising Association of America, a single vehicle can get up to 70,000 impressions daily if your wrapped vehicle is on the road for the majority of each business day? That's 70,000 chances for a random person to notice you and remember your business name, your phone number, or your website.
A vehicle wrap is like a billboard on wheels. In fact, 98% of poll respondents indicated they noticed truck-side ads, 2.5 times more than actual static billboards. What other form of advertising can boast those kinds of numbers? Vehicle wraps make a great investment in your overall marketing strategy.
Local Exposure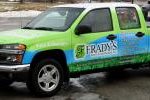 Unlike social media, TV, internet ads, etc., vehicle wraps promote locally. Other drivers see the vehicle around town. A service van parked in front of a house draws the attention of everyone up and down the block. Neighbors are nosy! After you leave, people will remember the company and ask how the service was. We can ignore ads and flyers, but a big wrapped truck sitting in front of us at a stop light is hard to miss.
Whether you only want your company logo and phone number on the side of your car or a full wrap on a trailer, you have the opportunity to reach tens of thousands of prospective clients every day. In an advertising poll, 30% of viewers indicated an outdoor ad influenced their buying decision. And 29% said they visited the retail location within a week of seeing the ad. Remember that 70,000 daily impressions figure? That's a huge opportunity for your wrapped vehicle to get noticed and actually drive sales.
Let's Get Wrapping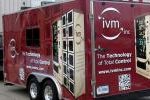 Wraps are a specialized decal that gets applied right over your vehicle's paint. It requires no prep work on your part, your vehicle is not damaged in the process, and the wrap can be removed at any time. That makes wraps an excellent choice for seasonal promotions or important milestones.
Smart car? Easy. Box truck? Piece of cake. 53' long trailer? No problem. Wraps can be applied to basically any type of vehicle.
Not sure what to put on it? We have designers ready to help get your brand and message ready to go (pun intended). After printing, we can bring the wrap to your location to apply. Are you purchasing a new business vehicle? Get it decorated before it leaves the lot.
Wanting to promote something specific or worried about changing your logo after the wrap job? Our wraps are removable which means we can unwrap and rewrap your vehicle to fit your promotional schedule.
Put your business vehicles to work as your 24/7/365 advertising team. Find a company that provides vehicle wrapping services in your area. If you are in the Indianapolis, Indiana area, contact Custom Print Products to find out how economical vehicle graphics are today. Give us a call at 877-793-7746.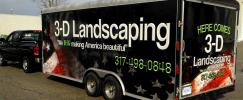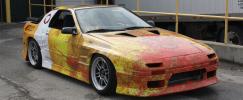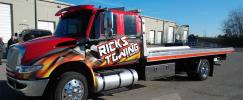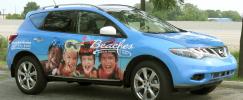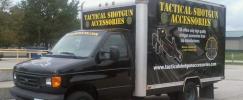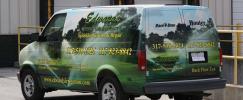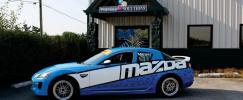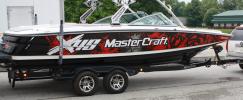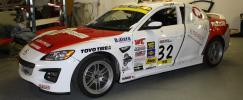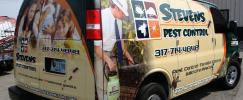 Statistics provided by the Outdoor Advertising Association of America.
Related Posts from The Print Finish Blog