There is a debate regarding doing overlaminates or UV coating. UV coating is a cheaper alternative to overlaminates for things like postcards, brochures, mailings and other marketing materials.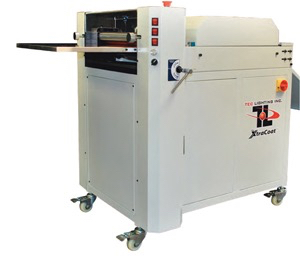 Today, we are going to walk you through using a Tec Lighting Mini UV Coating Machine. It is the perfect size machine for a UPS Store or other small print shop that wants to offer more print finishing services than just a copy machine. With a Tec Lighting Mini, you can now do business cards, postcard mailings, marketing materials at a decent cost to your customer.
It is pretty easy to use. We recommend using a low odor UV coating fluid for anyone working in a small space. If you have a really small space, you may have to position the machine for venting. Once you have added your UV coating fluid, simply turn it on.
There are some setting that need to be adjusted to ensure you have the right amount of heat and a great finish. The Infrared setting is used to heat up the fluid without activating the coating. Don't turn it up too high, as it will make your fluid smell. You may have to run one or two sheets to check the finish.
Then, you simply start feeding your UV coating machine. The mini is a manual feed machine, but you can purchase optional automatic feeders as well. If you are a small print shop, you should be able to get away with manual feed.
Once you are finished, you need to make sure the machine is clean properly using non-static wipes to ensure there is no hardening of any excess fluid on the rollers. If it is not maintained properly, you could go through some rollers which can be an expensive mistake.
The Tec Lighting Mini UV Coating Machine is reasonably priced at $11,400 and a perfect size for any small print shop.
Related Posts from The Print Finish Blog