With Email Delivery Getting Hampered By Spam Filters, Direct Mail Has No Such Hurdle
Direct Mail is making a comeback for marketers. As email becomes more and more difficult to deliver, marketers are looking for ways to reach people. Targeted direct mail can help that happen.
With the USPS – Every Door Direct Mail (EDDM) program, costs have come down considerably. Now, it is not say that EDDM is for every campaign. At 14.2 cents a piece, the USPS will deliver your piece to every door in a specific geography or zip code. If you need to target a specific audience, you should still get a targeted list. Delivery costs start at 25 cents for a piece.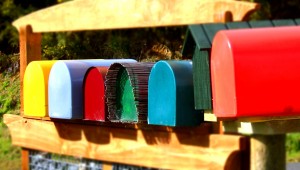 To be effective with direct mail, you will want to stay away from the language that makes everyone skeptical today. Terms like "UNBELIEVABLE DEALS!", or "FREE MONEY!" really do not get past the skeptical buyer today. What does work is giving the prospect something in return for an action. So, it could be, get a great deal. "Go to this webpage and give us some info to receive this great deal." It works.
If you are print finish shop, the question is, can you produce direct mail for your customers? If not, here are some things you need to get the job done.
UV Coating Machine
UV Coating is very hot right now. UV Coating has come down in price. The machines today no longer need venting to protect people from the harmful fumes of coatings of the past. Today, the biggest need for venting is for the heat generated by a UV Coating Machine. UV Coating protects the card stock printed. There are several brands out there to choose from including Als Co UV Curing Equipment. Als Co UV Equipment is all made in the USA, so parts and service are not an issue. Other companies include Tec Lighting. The most inexpensive machines on the market. Their equipment is manufactured in China. Parts and Service can be issue with Tec Lighting. Another company doing UV coating Machines is Graphic Wizard. Their machines are also manufactured in China.
All in One Creaser, Slitter and Cutter
After you have run your print job through a UV Coating Machine, one way to get those sheets cut properly is to run them through an all in one creaser, slitter and cutter. The advantage is the generally come with multiple pre-set job settings. It automates the process with very little waste or reruns required. MBM Corporation makes the Aerocut G2 which is a top of the line all in one. The other company offering a similar product is Duplo. They too have an all in one. The primary difference between the two machines is price and the preset options. MBM Corporation includes about 30 preset cuts while Duplo sells theirs as a modular option.
These 2 machines alone set you up to run an efficient direct mail piece operation. The end product is either a gloss or matte finished direct mail piece that stands out in the mail from 2 color or 1 color. With a good offer and appealing visuals, your customers can now run a good direct mail campaign that will generate interest. In a tight market, everyone needs something to make them stand out. You can help them with the right equipment.
Related Posts from The Print Finish Blog