Ramping up your operation
Last week we talked about the machines you would need to put a medium volume print finish operation together. This week, we are going to walk through the machines you would need to automate your operations, so you can handle large print finish jobs from direct mail pieces, brochures, menus, and large volume production. Through automation, you can lower your per piece cost of production and improve margins.
So, let's look at the machines you would need.
UV Coating is one of the areas where improvements have been made in the machines that produce. You can get a small UV Coating machine that does not require a lot floor space and special venting to keep fumes from choking you. The biggest need for venting is front the heat generated by the machine. UV Coating machines come in multiple sizes from 14" up to 30". For a medium sized operation, we recommend a 20".  UV Coating machines can be used for many types of jobs.
At Lloyds of Indiana, we carry 2 brands of UV Coating Machines: Al's UV Curing Equipment and Tec Lighting UV Coating.
Cost: $12,000-$30,000 either handfed or with automated feeders.
In the past, you would need three machines to process a job requiring slitting, cutting or creasing. Today, there are all in one machines that can do the work for you. With the manual process, you would need to account for setup time. You would need a highly skilled individual to run each of the machines. With the all-in-one machines, the individual just needs to know how to select the preset programs and hit the button. The machine does all the work with the final product coming out the other side. While these machines are a little expensive, they take far fewer space than the individual machines needed to manually process a slitting, cutting and creasing job.
At Lloyds of Indiana, we carry MBM Aerocut  and MBM Aerocut G2.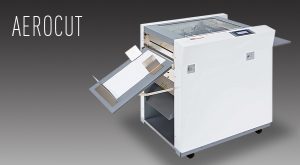 Cost: $27,000-$46,000
There is a point where a pouch laminator can no longer be used to run large projects. You will definitely need to upgrade to a roller laminator. A 12" roll laminator will allow you to run pretty much any job you may need for your customer. The advantage is to simply feed your document into the roll laminating machine versus placing a document into a laminating pouch and feeding into a pouch laminator. The advantage is materials are less expensive to run a roll laminator and production time is far faster.
You can find a large selection of roll laminators at Lloyds of Indiana including Ledco and Tamerica.
Cost: $1,800-$50,000
The most important thing about your binding machine is that it is rugged. It needs to have multi-die function for coil, comb and wire. That is why we recommend the Rhin-O-Tuff HD7500 for binding. It can handle up to 24" of paper. It has a multi-die system that can punch about anything.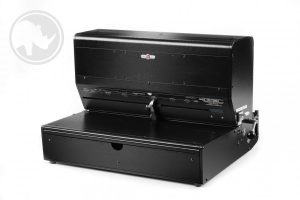 Cost: $6790
To complete your binding projects, you are going to need a crimper inserter tool. This takes your punched document and rolls the coil onto the document. It then cuts the ends of the coil to ensure the coil does not roll out of your.
Cost: $20-700
You can see a demonstration video here on using a punch machine with a coil inserter/crimper:
Related Posts from The Print Finish Blog