Direct mailing can be one of the most essential parts of a business, but it can be very time-consuming folding letters and stuffing envelopes. With this new product from Lloyd's of Indiana, the Formax FD 7104 Series Document Inserters, the job practically does itself!
The Formax FD 7104 Series Document Inserters have modular flexibility and extensive options to fit any production level. In short, you can load up a bunch of papers in one end, envelopes in the other, and the machine will fold and stuff everything for you, simplifying your mailing process.  
The modular design offers up to 8 modules with up to 17 feed stations, with high-capacity feeders, and a standard capacity of up to 1,500 sheets.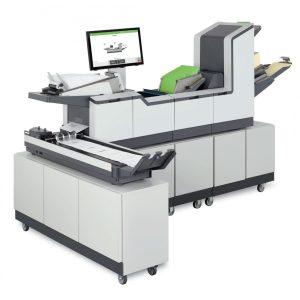 Each system is available with these standard feeder combinations: one 1,000-sheet feeder, one 500-sheet and one 1,000-sheet feeder, or three 500-sheet feeders. The top-loading envelope hopper holds up to 800 #10 envelopes.
This model is equipped with many advanced features to optimize the functionality for the jobs you need to be done.
A 22" color touchscreen interface guides operators through job programming and functions, and with unlimited programmable jobs, it's even easier to run recurring or frequently processed applications.
Mechanical Double Document Detectors ensure the correct documents get into each envelope, allowing for the automatic insertion of multiple-page documents, which eliminates the tedious task of manually collating and inserting, giving you more time to designate to other aspects of your business.
Read more about this fantastic new product for office efficiency and all of its customizable features and options: https://lloydsofindiana.com/formax-fd-7104-series-document-inserters
Related Posts from The Print Finish Blog