Last year, we got a call from a local Indianapolis company that needed help with their ID card system.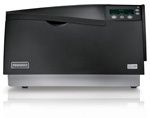 Because they had a number of locations across the greater Indianapolis area, they were dealing with multiple users across their HR department and wanted an employee access card system that was not only simple to use, but also easy to troubleshoot. We directed them to the Fargo DTC 550.
Why?
Because we knew we could deliver the needed supplies (ink cartridges, blank cards) on demand and Fargo had the support and customer education to back up their product. So, instead of spending days training their HR staff on a new system, they were up and running in hours.
Lloyds of Indiana has been selling Fargo ID Badge Printers and supplies for years and one of the first things that attracted me to the product was their high level of customer and product education. On top of making high-quality ID card printers, Fargo has some of the best customer training tools out there.
One of our top-selling Fargo products is the DTC550 ID Badge Printer. It prints, encodes and even handles magnetic stripes. It also works on a network, meaning multiple users can access and print from a single printer. Most importantly, it's easy to use and well supported.
On top of our own in-house customer education here at Lloyds, I can send our clients right to the Fargo website where they'll find videos and fact sheets that not only detail how their products work, but also how to choose the right solution. For example, their Card Selection System Selection Guide is a basic .pdf file that takes you through each of the Fargo ID Badge Printer products. This guide helps businesses identify their ID printing needs and the Fargo product that's going to meet them.
Another feature that I wish was more prevalent in the business-to-business equipment service market, is their easy-to-use support site. With its own domain and simple interface, the Fargo support site walks customers through common troubleshooting problems. So, instead of wading through piles of technical documentation, our customers can focus on identifying a problem and fixing it.
Related Posts from The Print Finish Blog