A good paper cutter is a must-have piece of equipment for any print shop or office. There are always going to be times when you need to just cut one sheet, several sheets, or stacks of paper. There are so many options, you can find the right one to meet your business' needs. You can choose from manual, rotary, electric, or hydraulic paper cutters.
Tabletop Cutters
Trim paper with ease using a tabletop paper cutter. Some of these models can be found in schools across the country, but we also carry high-volume production cutters to provide years of service in a print shop. The use of the manual-hand lever allows you to quickly cut one sheet or a full stack of paper with ease. Tabletop cutters are perfect for everyday use and they fit perfectly on any tabletop space.
Shop all our tabletop cutters here: https://lloydsofindiana.com/paper-cutters/tabletop-guillotine-paper-cutters
Rotary Blade Trimmers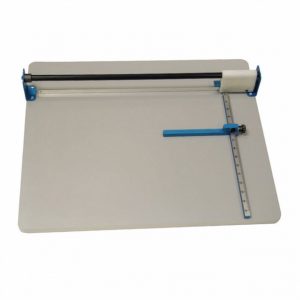 The most accurate cuts will always be made with rotary cutters. Trim paper, thin plastic and other materials with precision. Rotary trimmers offer a longer cut length than straight blade cutters. Available in a wide variety of lengths and sizes, these cutters are also some of the safest manual cutters as the blade isn't exposed like it is on most tabletop cutters.
Shop all our rotary blade trimmers here: https://lloydsofindiana.com/paper-cutters/rotory-blade-paper-cutters
Guillotine Cutters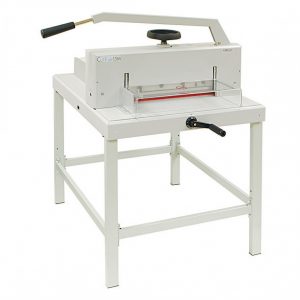 Just as the name suggests, a guillotine-style paper cutter cuts paper using an "overhead" blade that drops through a stack of paper. Guillotine paper cutters are commonly found in offices. They're sharp, can cut through multiple sheets with ease, and there are some great measurement guides on the working surface. There are even some that are fully programmable and make automatic cuts through inches of paper. Lloyd's carries everything from tabletop models to high-volume, fully-automatic, programmable, hydraulic operated production machines.
Shop all our guillotine paper cutters here: https://lloydsofindiana.com/paper-cutters/guillotine-paper-cutters
Business Card Slitters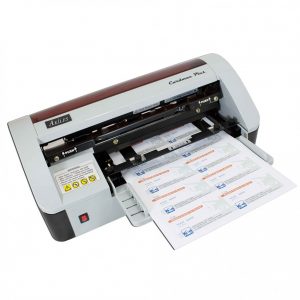 Instead of using a guillotine cutter for business cards, why not use one designed to make cutting business cards a breeze? Quickly cut printed sheets of business cards with a business card slitter. A business card slitter is time-saving and economical. These slitters will produce standard size 2″ X 3-1/2″ cards and remove the trim and you can choose from gutter or non-gutter slitters. Some slitters cut 8 cards, 10 cards, or even 12 business cards at a time. Choose a home office or commercial-type card slitter for your business today.
Shop business card slitters here: https://lloydsofindiana.com/paper-cutters/business-card-slitters
Remember, a good paper cutter can help you tackle any jobs that customers throw at you. It's a great asset to any business, so which model makes the cut for your business?
Related Posts from The Print Finish Blog