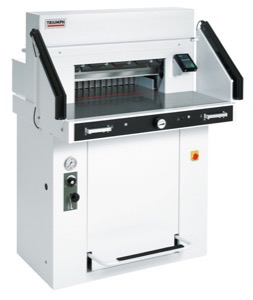 Are you still using a manual paper cutter? Are you finding it hard to finish cutting a large job? I may be time to upgrade to a Triumph Paper Cutter. For a limited time, you can get a Triumph Paper Cutter and have it shipped for free. Depending on where you are, that can be up to $500 savings. It's a great deal.
Triumph paper cutters are not your father's paper cutters. Today, paper cutters have all the safety features to ensure your insurance agent will never have to be contacted. The only way an accident can happen is if you purposely make it happen. The bigger paper cutters have infrared safety screens to ensure the blade will not work if the line is crossed. Even a gentleman with a robust waistline can't get in the way of the safety screen for it to work.
Also, the large cutters require two hand operation for it to cut your stacks. That means your worker can't have a free hand getting in the way of the blade. The blade will not come down unless two hands are on the levers. Plus, they have the safety screen to ensure that even a large belly can't somehow get in the way.
The other great feature of the Triumph cutters is they can be programmed for frequent cuts you may do. This means you can have an unskilled worker operate the machine by selecting a pre-programmed cut, so they don't have to worry about the math. You do the math, you only have to show your worker what direction to turn the stack to cut.
These machines can cut pretty nice size stacks for you to perfection. You can cut up to 3" of paper at a time. The machine is German engineered, so you know you are getting perfection.
Other features may include:
Automatic blade and clamp return from every position
Disc brake for instant blade stop
Blade changing device covers cutting edge of blade
Blade depth adjustment from outside of machine
Blade and cutting stick can be changed without removing covers.
So, if you have been thinking about getting a new paper cutter for your print shop, now is the time. Triumph Paper Cutters are offering free dock to dock shipping.
Learn more at Lloyd's Triumph Paper Cutter Store
Related Posts from The Print Finish Blog