Bordeaux UV Curable Ink puts money back into your pocket?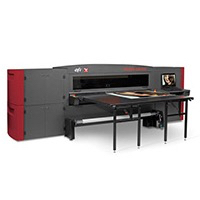 Do you run a flatbed wide format printer? Are you still using OEM print ink to run them? There are options to OEM now if you are out of your contract. Bordeaux UV Curable Ink provide the quality of OEM at a cost that adds more margin into your projects.
If you are running an Océ Arizona, Fujifilm Acuity, or a Vutek flatbed printer and it is out of contract, you have an opportunity to save a lot of money in your UV Curable Ink. If you are still under contract with one of these manufacturers, you will need to stick with the OEM solution. If not, the Bordeaux option could work for you.
The biggest challenge in switching inks is cleaning out the OEM ink and then properly calibrating the new inks to your printer. It's like thinking about changing accounting systems. You are probably going, "Oh God that sounds horrible." Bordeaux helps you get over that hump. They will assist you with the process of cleaning and calibrate to ensure your UV Curable ink runs smoothly for you.
Why consider the change? You can save up to 50% per bag off OEM UV Curable Ink. Consider the savings and how you can either increase margin or be competitive.
If you are interested in learning more about Bordeaux UV Curable Inks, call us at Lloyds of Indiana at 877-626-6848 and speak to a specialist. It could improve your margins on your business.
Related Posts from The Print Finish Blog