If you run a print shop, you know you need a paper cutter or paper cutters. You may need a one-off cut of a piece of substrate. You may need to cut stacks of paper. Or, you need a precision cut for a small project. Apart from scissors and a cutting knife, you will probably need more than just one type of paper cutter.
What options are there?
Guillotine Paper Cutter
This is the kind we all grew up to know and love. Every classroom had one that allowed us to cut construction paper to make the fancy Christmas decoration for our mothers. Today's guillotine paper cutter is not your paper cutter of yesteryear. Today, the guillotine paper cutter has new safety features to avoid a lost digit. They have the ability to hold a small stack of paper, so you can have a straight cut all the way through.
Guillomax Paper Cutter (guillomax cutter)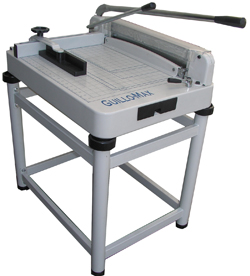 As an example, the Guillomax paper cutter can cut up to 360 sheets of 20 lb. paper in a single stroke. It does this by using a handle-weighted clamp to hold the paper firmly in place while cutting. By holding the paper, it gives you a clean, square and even cut.
MBM Kutrimmer 1038 Tabletop Trimmer
The MBM Kutrimmer line of Tabletop paper cutters is similar to the Guillomax. The difference is the Kutrimmer line can cut up to 60 sheets of paper at a time. They come with a Solingen steel blade set may be resharpened. It includes a transparent Lexan® safety guard. It has a solid hand clamp to hold the paper that is independent of blade handle. It has a lockable back gauge while the front gauge is adjustable using a calibrated rotoary knob.
Rotary Paper Cutters
Rotary paper cutters are very nice to have around the office. They are a tabletop paper cutter that makes cutting individual sheets really easy and precise. If you are creating certificates and plaques for customers, a rotary paper cutter is a handy tool.
Roll@Blade High Precision Rotary Trimmer (Roll_blade)
It's an inexpensive cutter. It is a self-sharpening tabletop cutter. It has a self-sharpening tungsten rotary blade that has a sharp cut. It can trim materials including paper, plastic films, vinyl, pvc, etc. It requires little or no skill to operate, so anyone can use it.
Electric and Hydraulic Paper Cutters
If you are cutting large stacks of paper, plastic or card stock, you need a larger paper cutter. If you are using an old one, you may want to consider a newer one. They are pretty much automated now in you can program various cuts you need for any customer. They offer the best safety triggers to avoid any accidents. They have laser guides to ensure the cuts are perfect. With a preprogrammable system, you don't need a lot of skill to operate the machine.
Triumph 4850 D Automatic Cutter With Digital Display
Triumph 4850 D Automatic Cutter With Digital Display gives you the ability to cut up to 18 7/8" width and up to 3" in height. It has the Triumph "SCS" (Safety Cutting System) package. Frankly, it is impossible to cut your hand off, unless you tampered with it to make it something it was not manufactured to do. The blade and cutting stick can be changed without removing covers. It has a Solingen steel blade; solid steel blade carrier and adjustable blade guides. The automatic clamp is guided on both sides to apply even pressure along the entire cutting width (can be lowered or raised independently from the blade). There are dual side guides on front and rear tables; spindle-guided back gauge with
calibrated crank. There is a digital display for precise back gauge positioning; bright, LED optical cutting line; all-metal construction; stand with storage shelf.
Triumph 6660 Automatic Programmable Paper Cutter With Safety Light Beams
This machine is the cream of the crop. It can programm up to 99 different cutting programs. Once again, eliminating mistakes in the cutting. The only room for error is if the operator picks the wrong program cut. Again, it has the Triumph safety package that makes it almost impossible for anyone to hurt themselves on the machine. It has a 25/12 inch cutting width for big projects. This is a beautiful machine.
Of course, if you are trying to decide what cutter you need to your print shop, give us a call. We can hep you answer any questions you may have.
Related Posts from The Print Finish Blog