Booklets are still a great marketing tool for your customers. They can also be great tools for manuals or handbooks. To make them, you will need a booklet maker.
A Booklet Maker is a machine that creates professional booklets or information leaflets in an automated fashion. The advantage is it can process hundreds of booklets in an hour lowering the cost of production. There are both manual and electric booklet makers available. Some are simple desktop or tabletop models and you can also have inline or floor model booklet makers. Some booklet makers can stitch your booklets together or they simply staple them together.
Electric booklet makers are the most productive as they can process hundreds per hour at a time. If you are getting a lot of requests for booklets to be produced, electric is the way to go. The machines can eve be programmed allowing for non-technical staff to operate them. At the same, ensuring quality output every time.
While most booklet makers create cheap manual models, the top booklet maker manufacturers that use quality parts and modules are Akiles, MBM and Formax.
Here are some of the machines you can find.
Akiles BookletMac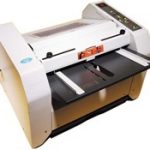 The Akiles BookletMac offers a semi-automatic approach to booklet making for ease of use and fast booklet production. This booklet maker can produce up to 800 booklets per hour without lacking any professional presentation. This booklet maker is very precise in its use and requires no warm time at all to operate. For a quick, simple and highly effective booklet maker the Akiles BookletMac may be the right choice for you and all of your booklet making projects.
Formax FD 170 Booklet Maker
The FD 170 Booklet Maker is a superb choice for office use. With a sleek and slim
design, the FD 170 Booklet Maker fits perfectly in any office on any space. This booklet maker is a desktop model that offers speeds of up to 800 booklets per hour and has a half panel fold option for simple booklet making purposes. Also, this booklet maker does saddle stapling to leave your finely finish booklets with a polish looked and feel.
MBM Autobook Automatic Booklet Maker
The MBM Autobook Automatic Booklet Maker is a simple and easy to use
booklet maker. With dual staple and 5 positions for stables, this booklet maker is great for versatile booklet making. This booklet maker also offers an interlocking cover for safe operation and an automatic paper centering feature not found in other booklet makers. Also, this booklet maker is 100% metal for a great lifetime of booklet making now and in the future.
MBM Binderymate 2 Wire Stitcher
If you are looking for high-output and fast wire stitching then the MBM Stitchmaster is just
for you! This booklet maker offers a mountable solution to booklet making. Easily add this booklet maker to nearly any workbench for any easy to use mountable booklet maker. Also, this booklet maker can be combined with an addition MBM Binerymate 2 Wire Stitcher to create a dual head stitcher for extending and higher output levels than traditional table top booklet makers.
If you have any questions, feel free to call our booklet maker expert at 877-626-6848.
Related Posts from The Print Finish Blog