There are many creative ways to use laminating film to help clients market themselves. Laminating posters for window displays, clear window displays, different textures for direct mail pieces. So, how do offer a floor graphic for retail locations?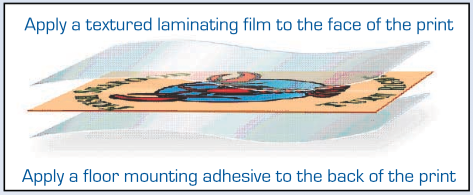 The way to do it uses a D&K textured vinyl laminate to the face of the graphic you want to have on the floor. On the back of the print, you need to apply a clear or opaque floor mounting adhesive for a removable floor graphic. This is perfect for any retail outlet that wants to direct traffic for a promotion. So, if your customer's Doritos rep is bugging them to do an in-store promotion, a textured laminating film graphic can tell everyone coming in where to go.
So how do you do it?
You need a textured laminating film to cover the face of the print where people will be walking on it. Obviously a textured finish provides people more grip when they are walking on it.
You need to apply the floor mounting adhesive to the back of the print. Obviously, you keep the removable adhesive covered until you apply to the floor.
Install the floor graphic by removing the release liner on the back of the graphic. Simply press the image firmly onto the floor. Moving from the center of the graphic, use a squeegee to remove any air bubbles trapped in the graphic.
It is best to apply the floor graphic to waxed tile floors only. Foot traffic determines the longevity of the graphic. Make sure the tile is clean before you apply it. Once it is installed, you can wash and wax the floor as you would any other application.
Related Posts from The Print Finish Blog