Pouch lamination is a simple product. Yet, they are all not the same.
Quality can be determined by the thickness ranging from 3 mil which is the lightest up to 10 mil being the highest quality. Like pixels in your camera, not all lamination is created equal. If a 36 pixel camera does not have a good lens attached to it, the quality of your picture is still going to be mediocre. The same could be set for pouch lamination. Just because it is 10 mil does not guarantee it will be of the highest quality. One of our clients is www.newspeedlimit.com . They use menu size pouch lamination for their custom placemats for kids.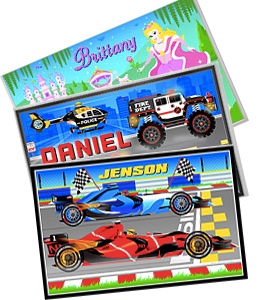 Newspeedlimit.com has a lot of experience using different pouch lamination. They are printing high quality custom designed placemats for their customers. Lamination can either pull out the design or limit the design impact. A well designed placemat makes a great tool in both educating and occupying a child at the dinner table. This is what Caleb Aho, owner of Newspeedlimit.com has to say about the menu size pouch lamination from Lloyds of Indiana:
"As a small company that sells kids personalized placemats our product has to be both amazing in quality and design. Our artist has the amazing super fun designs covered, for the quality we trust the 12×18 crystal clear 10-mil laminate from Lloyds' of Indiana. We find that the finish is flawless you see the design not the laminate. In the we have tried been lured to try other brands that offered a coupon deal or for free shipping, but it always came back to bite us with bubbling, warping, and bad sealed corners. So if you want a quality in your laminating project or products please check them out. Below is a link for the our New Speed Limit Kid's Personalized Placemats."
https://www.newspeedlimit.com/products.php?cat=Kid%27s+Personalized+-+Singles
https://www.newspeedlimit.com/products.php?cat=Kid%27s+Personalized+-+4+Pack
If you have any questions about the applications of pouch lamination, give us a call at 877-626-6848 or check out www.newspeedlimit.com.
Related Posts from The Print Finish Blog