The proliferation of online sources for traditional forms of media has led many to proclaim the death of print. While it's true that big name book retailers have struggled, the sales of e-books stalled in 2013. In the world of sales, distributors and business-to-business sellers have learned that a physical catalog is still an integral tool. Last year Kevin Kelly, founding executive editor of Wired, surprised online communities by deciding to self-publish a print catalog compiling 10 years of his product revues for Amazon. What was even more surprising was when the first printing of 10,000 copies of the catalog, called Cool Tools, immediately sold out.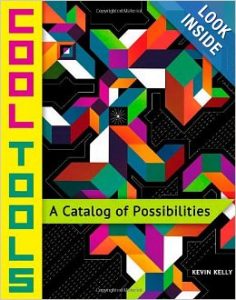 A survey recently commissioned by Two Sides, a non-profit promoting responsible and sustainable print and paper production, found that 70% of people reported preferring to read physical materials over reading a digital format. But today print materials have to catch and keep the short attention spans fostered by access to all the resources on the web. A print shop needs to have the equipment to produce eye popping print materials. Can you meet your customers' needs for high end print finishing?
In the New York Times article, Print Starts to Settle Into Its Niches, Kelly is interviewed about the catalog and he discusses differences between print and digital formats. Kelly describes the catalog, whose 472 pages weigh in at 4 ½ pounds, as a "large expanse of real estate." The catalog's format juxtaposes products and reviews with folklore and somewhat random "stuff." Kelly says that this mixture of information offers "many different things you may be interested in on a page" giving readers a different experience than they would have online.
In putting Cool Tools together, Kelly utilized designers from all over the world through crowdsourcing. Every page is a collection of information about not just the product, but it's history and usages in the real world. The vivid colors jump off the pages, grabbing the eye and carrying the reader from piece to piece. The inclusion of QR codes allows readers to go directly to a website and purchase any item that catches their fancy (thereby giving Kelly a small referral fee from Amazon).
Big glossy fashion and art magazines continue to be profitable month after month as they exemplify the best attributes of print media. These magazines utilize composition and a mixture of elements to set the tempo of their story. The must haves for creating high end print materials such as these are high end color digital printing, UV coating machines, all in one slitter, cutter, and creaser machines, and the ability to create custom binding covers.
Related Posts from The Print Finish Blog