Ink World published its Inkjet Report for 2013 highlighting the growth of inkjet technologies in digital print and its prospects moving forward. Commercial printing inks continue to lead the digital revolution that makes digital and wide format the new standard. There are still questions of the direction print will go as more technologies get introduced in marketing. For now, commercial printing inks are seeing more growth year over year.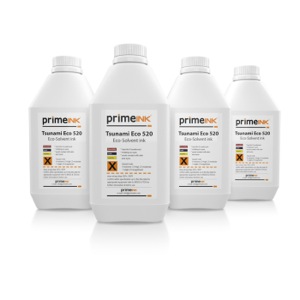 Commercial printing ink continues to grow. According to the Inkjet Report,
"In 2013, EFI sold more than a million liters of inkjet ink for the second consecutive year, and its VUTEk and Jetrion press lines continue to enjoy growth. Stephen Emery, vice president, ink business and Jetrion Industrial Inkjet, EFI, said that the first quarter of 2014 marked the 18th consecutive quarter of double-digit growth in inkjet ink sales for EFI, at 25% year over year growth.
"For us, 2013 marked our second consecutive year of over 1 million liters of ink sold. Ink sales are growing faster than equipment sales, which means our customers are consuming more ink across the board, in narrow web and wide format," Emery added.
Sun Chemicals also boasted increase in sales, "Peter Saunders, business director – Digital, Sun Chemical, said that SunJet, the inkjet division of Sun Chemical, grew strongly in the past year, and widened its product and technology portfolio to meet the demands of existing and emerging markets.
"We have seen continued growth in wide and super-wide formats in the graphics market," Saunders said. "Narrow web and label opportunities have increased as digital press capabilities are being realized. Imprinting and personalized print applications have grown in all geographies, and we have seen deployment of systems designed for commercial print and publication markets using aqueous ink technology. We have been able to capitalize on our vertically integrated strengths in aqueous and non-aqueous inkjet applications that leverage our technical expertise in pigments, dispersions, polymers and formulation chemistry know-how, combined with our understanding of print applications."
And Dupont will not be left behind, ""The DuPont Digital Printing business enjoyed healthy growth in 2013 in several key market segments," said Brian Albans, global business manager, DuPont Digital Printing. "We commercialized a new pigment ink technology platform for high speed commercial printing that enhanced color strength and productivity, and expanded our capabilities for future innovation with a new R&D facility in Japan. We expanded production at our Ft. Madison, IA facility in the U.S. and by building a new facility in Singapore to support the strong, continued growth in the Asia Pacific region.
"The strongest markets for digital printing include commercial, high-speed office, and emerging applications such as packaging," Albans continued. "Many factors drive growth in these segments, such as greater demand for customization, shorter runs and the need for continued cost reductions."
The future is bright for digital printing. All the ink producers anticipate commercial printing ink will reach year over year double digit growth. Packaging is leading the growth, but sheetfed applications will continue to see growth as well. Lloyds of Indiana carries a large selection of commercial printing inks that are compatible with the most popular wide format printers including Mimaki, HP, Mutoh and Roland.
We just received some new commercial roll lamination from D&K. It is their Brilliance line of Pressure Sensitive UV Vinyl Lamination. We talk a lot abut UV Coating here. The Brilliance line of roll lamination from D&K provides a good alternative if you have a commercial roll laminator. The applications are best for those items that will be exposed to sunlight or indoor light. The UV inhibitors and vinyl construction make this lamination perfect to overlay outdoor signs, stickers or magnets.
It comes with the following finishes:
This commercial roll lamination film comes in 3mil thickness except for the canvas which is 4 mil. The cost per square foot ranges between .50-.80 depending on the roll you pick. These UV inhibitors work great for signs, retail advertising, transit graphics, trade show graphics, posters and digital art.
Gloss (UV) Vinyl – 3 mil
This gloss finish is a bright glossy finish. It does a great job of pulling out the colors in the document. It has UV inhibitors which provides your document protection from indirect sunlight and indoor lighting. It hardly feels like the document is laminated, nor does it look like lamination.
Luster (UV) Vinyl – 3 mil
Luster is a blend of gloss and matte. There is very little reflection off the laminate. There are times when the low glare finish is needed. Luster makes the document appear elegant and rich. The really cool thing is it does not look like the document is laminated.
Matte (UV) Vinyl – 3 mil
Matte is a perfect application to soften your image and reduce glare. Again, the application does not feel like you have a laminate over your document. A great application of the matte lamination is trade show signage where glare from overhead lighting can become an issue. Like all the pressure sensitive Brilliance line, the UV inhibitors help protect images from indirect sunlight and indoor lighting.
Canvas (UV) Vinyl – 4 mil
Want to make an image look like a painting? The Canvas lamination makes a picture look like it is on canvas. It has the
reflection of the luster lamination as a blend of gloss and matte.
All the Brilliance pressure sensitive commercial roll lamination film is available at www.lloydsofindiana.com.
Document binding can make your customer look great
Part of your job as a print shop owner is to help your customers using media to present themselves in a good light. A good presentation can be the difference between landing a big account or landing a small account. Here are some machines you may want to consider using:
1. Rhin-O-Tuff Commercial Binding Machines
Rhin-O-Tuff has a large selection of commercial binding machines. The advantage of the Rhin-O-Tuff is the multi-die system which enables you to punch binding comb, binding coil or binding wire holes. They even have more speciality dies that allow you to bind large manuals or 3 ring binders. If you need Velo Bind punch, the Rhin-O-Tuff supports that too. They are heavy duty and last a long time. If you are a small print shop, we recommend you start out with the Rhin-O-Tuff Onyx OD4000 punch machine. If you decided to upgrade your machine to the bigger ones, the dies you purchase for the OD4000 goes with you.
2. MasterBind USA Binding Machines
MasterBind is a great system to have. If you purchased a Rhin-O-Tuff machine, you can use the MasterBind system in conjunction with it. The MasterBind commercial binding machine allows you to customize your customer's presentation cover for their prospects. They have a pouch lamination cover system that can be punched for both wire and plastic spiral binding. it allows your custome
r to print a custom cover that can be specific to their prospect and in color. It is a hard bound cover that makes their presented material look custom manufactured, yet a very reasonable cost. They also have some leather covers that can embossed or printed with lettering.
Binding can be done with either wire, coil or the MasterBind channel system which are almost impossible to break free. MasterBind USA allows for creative document creation for presentations, waiting room portfolios, or manuals.
The combination of Rhin-O-Tuff and MasterBind USA gives you the ability to tackle any binding request from your customers. It also allows you to add more value to your customers by helping them understand how to best use document binding to promote their business.
Automated Folding Saves You Time
If you're looking for an extremely versatile tabletop folder, you're looking for the 407A Automatic Programmable model from MBM. This model has six standard folds pre-programmed, but allows for 27 custom folds to be stored in its memory, ready to recall at any time.
Other than its robust memory, the MBM 407A paper folder  is very similar to the 307A. It accepts 450 sheets at a time at up to 11″ x 17″ in size. It folds more than 11,000 per hour, and it features an automatic feed table ensures optimum feed pressure, so there are very few jams or adjustments for paper stock.
The self-setting exit rollers ensure smooth ejection of folded paper and keep everything in neat sequential order. Check out the 407A Automatic Programmable Tabletop Folder for easy maintenance, durable all-metal construction, and the availability of an optional perforator or scorer.
The 407A Automatic Programmable Tabletop Folder is $4,139  at Lloyd's.  We'll throw in free shipping and a gift with your purchase.
For more information on the MBM 407A Automatic Programmable Tabletop Folder or to place an order, please visit the Lloyd's website.
Go into a print shop, you should always see multiple paper cutters on tables. There are so many different ones available. Depending on the project, you could see yourself using a simple tabletop cutter, or you could need a large cutter for big jobs.
So, let's take a look at the top 5 paper cutters every print shop should have
1. Hydraulic or Electric Paper Cutter
A hydraulic or electric paper cutter is a big cutter that allows you to do big projects. You can cut stacks at a time using one of these cutters. They usually allow for a maximum with up to 25" and a height of 3" of cutting. Some are programmable with up to 99 presets for frequently used measurements. Every print ship should have one of these.
Two of the most popular manufacturers are MBM Triumph series and Formax Cut-True series. These big guillotine cutters run anywhere from $7,995 – $23,000.
2. Rotary Trimmer
These tabletop paper cutters are great for cutting straight edges for finishing products. You can only really do one piece at a time, but for small projects, it gets the job done and quickly. What's most important is a precision cut with a straight line. Every print shop needs one.
The primary manufacturers are Akiles with their Roll@Blade cutters and MBM Kutrimmer wide format cutters. They start at $255-$1,305.
3. Table Top Guillotine Paper Cutter
Sometimes, a quick job is all you need. The good old fashion tabletop guillotine paper cutter does the trick. If you need to cut something quick, it is available.
Other Paper Cutters to consider:
All in One Cutter, Slitter, Creaser
These machines are the cream of the crop for a small print shop. The all in one cutter, slitter and creaser can be preprogrammed with multiple presets for business card cutting, mailings, flyers, brochures. Pretty much any job where you can stick a stack of into the automatic feeder and it spits out a finished product with little or now supervision. They are expensive, but they pretty much can handle any project you take for small runs. MBM offers the G2 which starts at $48,000.
Business Card Cutters
There are manual and automatic business card cutters on the market. If you are doing a lot of business cards, a business card cutter is what you need. They are programmable so you can run presets to finish large quantities, or you can have an inexpensive manual business card slitter for smaller runs. These are affordable and good to have in your shop, so you are not sending the projects out.
It's an obvious statement, but paper cutters are a must have in a print shop.