Customers are looking for creative solutions for their print finishing. To protect a document, the only option in the past was to laminate it. Today, we have the new option of putting your printed documents through a uv coating process. Depending on the document, this may be all that is needed. The advantage to you and your customer is uv coating provides a lower cost option to lamination.
So, what are the advantages of UV Coating?
UV Coating is one of the most cost effective ways to finish a document. It's easy, the cost of uv coating is less than .02 for a 12×18 printed sheet. If you were to finish the same 12×18 printed sheet using lamination, your cost rises to .30-.40 cents per sheet. While Lamination does provide a different kind of protection for your printed document, it does not bring out the colors quite the way a UV Coated document can.
Here is a poster that was coated with REVO SureCoat UV Coating, As you can see, the colors seem to pop out at you.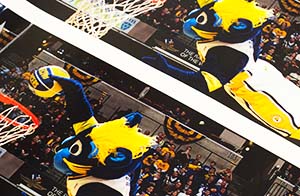 Here is a poster that was laminated. The laminate has to share the spotlight with the printed document and can be impeded by reflecting light.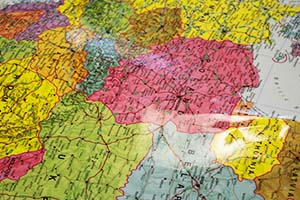 There is always going to be a need for laminating over uv coating. What uv coating does for any print shop is give them flexibility. It also helps with project margins because you can't beat .02 cents a sheet cost over .30-.40 cents cost per sheet. To top it off, the uv coating really brings out the color in a document.
What's the catch?
There is a place for both lamination and uv coating. You have to decide what is best for your clients based on their needs. UV Coating an provide the document protection they may need for short-term marketing items. For long term document presentation or posters, a laminated solution may what they need. UV Coating gives you the flexibility and the presentation to make your clients look good.
Lloyds of Indiana carries a wide selection of roll lamination equipment and roll laminating film, along with uv coating machines and uv coating solutions featuring the low odor REVO Coatings UV Coating Fluids.
When should you buy an ID Badge Printer?
Today's ID Badge Printers are really good. Depending on the sophistication you need, you can print an ID Badge with pictures, bar codes and magnetic strips. Naturally, the more sophisticated the requires, the higher the cost. Fargo's most popular ID Badge Printers are their DTC (Direct to Card) and HDP (High Definition Printing). Again, depending on what you need, a Direct to Card printer works well for schools and other public settings. If you are a pharmaceutical firm, you are going to need to use a High Definition Printer. They offer a higher level of security allowing the cards to be programmed.
Prices range from $1,200 up to $7500.
Both the DTC and HDP ID Badge printers are appropriate for high volume printing.
What about pouch lamination for ID Badges? 
Sometimes, a full blown DTC or HDP is not what you need. A simple pouch laminator using ID Badge Laminating Pouches can do the trick. If all you want is to have someone identify themselves and your volume is limited. Pouch Laminator is all you need. Advantages include a long shelf life for the laminating pouches. Low maintenance on the pouch laminator.
Sometimes, Badge printers are discontinued, as are the print cartridges or ribbons. So, you have to make sure you get your money's worth with your purchase. If you are using the higher end printers, this is not a problem. But, the lower end printers could be a problem.
So, like all things in business, you need to decide what kind of volume you will be running? What kind of security features you will need? If it is worth making the larger investment or using a simple solution.
Pouch lamination is a simple product. Yet, they are all not the same.
Quality can be determined by the thickness ranging from 3 mil which is the lightest up to 10 mil being the highest quality. Like pixels in your camera, not all lamination is created equal. If a 36 pixel camera does not have a good lens attached to it, the quality of your picture is still going to be mediocre. The same could be set for pouch lamination. Just because it is 10 mil does not guarantee it will be of the highest quality. One of our clients is www.newspeedlimit.com . They use menu size pouch lamination for their custom placemats for kids.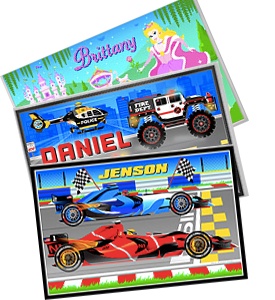 Newspeedlimit.com has a lot of experience using different pouch lamination. They are printing high quality custom designed placemats for their customers. Lamination can either pull out the design or limit the design impact. A well designed placemat makes a great tool in both educating and occupying a child at the dinner table. This is what Caleb Aho, owner of Newspeedlimit.com has to say about the menu size pouch lamination from Lloyds of Indiana:
"As a small company that sells kids personalized placemats our product has to be both amazing in quality and design. Our artist has the amazing super fun designs covered, for the quality we trust the 12×18 crystal clear 10-mil laminate from Lloyds' of Indiana. We find that the finish is flawless you see the design not the laminate. In the we have tried been lured to try other brands that offered a coupon deal or for free shipping, but it always came back to bite us with bubbling, warping, and bad sealed corners. So if you want a quality in your laminating project or products please check them out. Below is a link for the our New Speed Limit Kid's Personalized Placemats."
http://www.newspeedlimit.com/products.php?cat=Kid%27s+Personalized+-+Singles
http://www.newspeedlimit.com/products.php?cat=Kid%27s+Personalized+-+4+Pack
If you have any questions about the applications of pouch lamination, give us a call at 877-626-6848 or check out www.newspeedlimit.com.
SureCoat versus Xtra-Coat
Lloyds of Indiana has been shopping for everything UV Coating. We are trying to find the right machines and the right coatings to produce high quality output with little or no downtime. UV Coating provides a lot of benefits in document finishing. At less than .02 cents a 12×18 sheet, it is a cost effective way to not only make your client's documents look great, while providing document protection. So, we decided to test a new coating product called REVO Coating against Tech Lighting's Xtra-Coat.
We ran our job through a Tech Lighting Mini-Coater.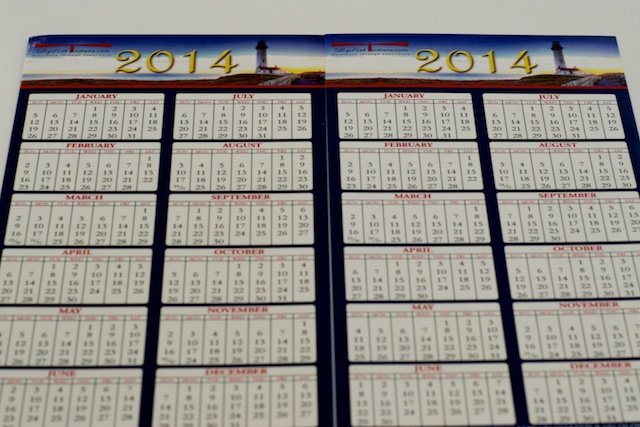 We have been looking for a low odor, high quality uv coating for some time. The greatest challenge in UV Coating is the odor. If you are working in a small space, odor can be a problem. In urban markets like New York, a print shop operating next to a restaurant will get some complaints if their UV Coater is kicking out nasty fumes that are leaking into your neighbors restaurant. In addition, high quality coverage was the other criteria. Some UV coating just does a half a job. The shine is not quite there.
So we took a small internal project and did a UV Coating job on our promotional calendars. We used Xtra-Coat High Gloss UV Coating against SureCoat 2011 Hi Gloss UV Coating. It was simple, SureCoat won hands down. Normally when we run a UV Coating project with Xtra-Coat, the smell comes all the way into our offices here at Lloyds of Indiana. We ran the same project using SureCoat and the smell was isolated to a small area around our machine. After the project was completed, the smell did not linger around either.
The quality of the finish was far superior as well. It has smooth feel to it. The colors from the document look far richer as every inch was covered. We had someone complain that they could not use an Xtra-Coat finish for a dinner menu because it smelled. The SureCoat has a slight odor, but not as strong. The finish is fantastic.
As you can see in these pictures the light shows the uneven spread on the Xtra-Coat. The image on the left is the SureCoat finish, the image on the right is the Xtra-Coat finish. The SureCoat is quality for sure.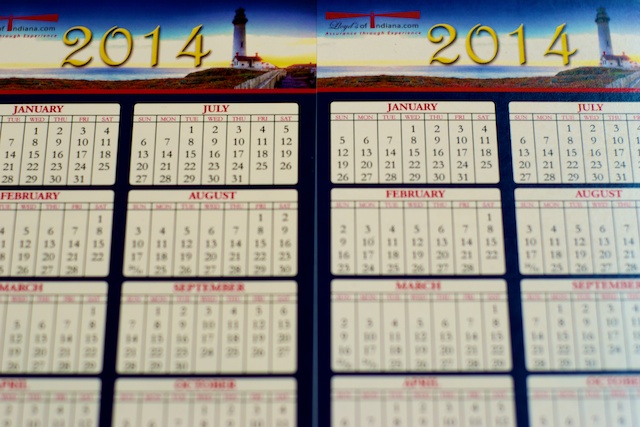 SureCoat comes is available for Konica Minolta, Xerox iGen, all major digital presses along with all major off-set press inks. Lloyds of Indiana was so happy with it, we are now carrying it on our webstore.

In the printing industry you are constantly striving to make top quality exacting copies. To that end you seek out the best in supplies, such as paper, ink, and printing equipment. Once printed, coatings protect your materials from temperature changes, moisture, humidity, and wear and tear. But all your care and effort to produce the best quality prints can be ruined by coating cracking.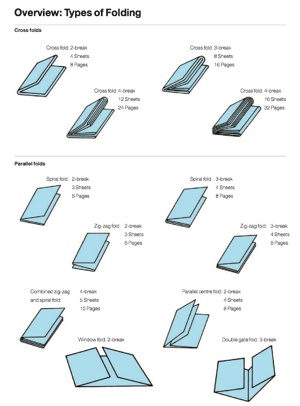 Cracking really becomes an issue when using coated paper, which makes better reproductions than paper that is not coated. The coating can separate or crack, especially along folds. This is where the decision whether to use a paper scoring machine or paper creasing machine comes in.
It may seem like creasing and scoring are pretty much the same thing, they both serve the same purpose. The methods used to score or crease paper are very different, however, and have different results. Paper creasing is done by compressing the fold into the piece with an anvil style arm. Whereas, to score paper a rotary tool is rolled over the sheets along the fold lines. This process reduces stiffness along the lines making the paper fold more easily.
Both methods have their pros and cons.
Creasing Pros
Most creasing machines have simple inputs utilizing inch increments and are easily set up and adjusted. – The entire length of your materials can be creased. – A wide varieties of table-top sized mini-creasers are available.
Creasing Cons
Creasing machines must be adjusted for creases of different widths. – The creasing process slows operating speed.
Creasing machines are best for materials with a large percentage of ink coverage. The single large surface area of the anvil arm is less likely to crack the ink than the repeated small surfaces of a rotary wheel. The arm also makes creasing better for textured paper, as the rotary wheel could tear or separate the fibers.
Scoring Pros
Scoring machines are often air-fed and you feed your materials through the rotary wheel, which spins continually. – The scoring can be done at the same as other finishing applications. – This makes it more convenient than other processes as well as faster.
Scoring Cons
Creasing machines must also be adjusted for creases of different widths. – Setting up scoring machines produces more waste paper than creasing machines. – Scoring often doesn't work well with the toner used by digital printers.
Paper scoring machines work great in office environments where documents are light on ink coverage. These materials also tend to be printed on plain or gloss paper. The paper is often thinner as well.
The paper you use can make a big difference. Before choosing, be sure to test inks, coatings, and the effects of moisture.