Recent Posts From
All Categories
If you are purchasing a coil binding machine, a coil crimper is a must have...
Popular Posts
This Week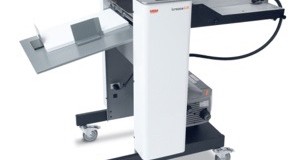 We recently had a customer come into our office needing a some books printed. There was a lot of confusion with the customer because they kept asking for a digital proof. It was kind of confusing because they sent us a PDF to print. So, why does she want a digital proof of what she already sent us? Sometimes, customers do not always effectively communicate what they really want. When she came into the office we started to understand what she wanted, but was not really able to communicate with us. There are some challenges with digital printing to consider when setting up that PDF to send to your printer.: Understand there is a difference between RGB and CMYK If you are designing in RGB and are converting to CMYK, you will lose your color information. For print, it is probably good to stick to designing into CMYK to no lose any color definition. Fonts Can Change This is where our client got stuck. They were probably using a Freeware font. When it was getting converted to PDF, they may not have known there were restrictions on using the font. This whas where she had a hard time communicating...
If you are purchasing a coil binding machine, a coil crimper is a must have tool. Have you ever coil-bound a book only to have the pages slowly but surely slide off the coil over a period of days, weeks or even months? Have you ever just pulled a coil binding out with one good yank? A good hand-held  binding coil crimper can prevent that. What Does it Do? This rugged tool is specifically designed to cut and then crimp the ends off of any binding coil after it runs through your punched document. Not only does crimping hold the coil in place longer, it also prevents those nasty coil snags which can either hurt your skin or rip any and all nearby fabric or paper. Not overly complex or fancy, this is a well-made hand tool designed to do an essential job. And How Much Does it Cost? Priced at just $29, these hand-held binding coil crimpers are a steal at Lloyd's. Customers also have the option of purchasing an extended replacement warranty, though these all-manual, heavy-duty metal crimpers tend to last for years, if not decades. It's a simple tool, but a necessary one for anyone generating...
Binding Machines
Binding Supplies
laminating pouches
laminating supplies
laminators
Roll Laminator Supplies
Roll Laminators