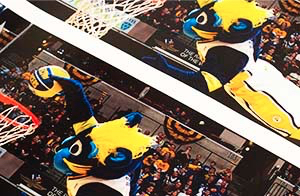 UV coating along with digital printing has revolutionized the printing industry. Digital printing gives printers the ability to offer short run projects with the obvious benefits that digital printing brings like variable data, a variety of colors, substrates, and finishes. As a print shop, should you invest in a UV coating operation, or consider continuing with a roll laminating operation? Where does the future lie and where can you add margin onto your business?
What is the cost of using roll lamination over UV coating?
To have an efficient roll laminating operation, you want to automate as much of it as possible. You will need to a laminator and a cutting machine as part of your operation. A high-end roll laminator with a cutting machine can run anywhere from $11,000 for the laminator and up to $26,000 for an automatic cutter. Up front equipment costs can be pretty high.
Your film laminate costs can range from .20 to .30 per square foot on the low end. If you use specialty finishes like a luster, canvas, or floor graphics, you are going to find costs to be well over $1.00 per square foot on the high end.
Compare those costs to UV coating, it is pretty to see how coatings are such a growth market. Your upfront costs on a UV coating machine can be as low as $13,000 for a 14" Mini coating machine to 16" coating machine at $15,000. You can find sizes go up to 30" and more.
Your coating fluid costs are really inexpensive compared to lamination. Coating fluid ranges from $65 per gallon up to $160 per gallon for specialty applications. The cost is between .01 to .15 cents per square foot. A big costs savings over using roll lamination.
Waste is another area of cost savings. With UV curable coatings, you only see a 2% waste compared to film laminates at over 15%. Electricity is another area of cost savings, as coating fluids have lower labor and electricity costs. You are not using as much space with a UV coating machine either.
UV coating process speed is faster
UV coating machines generally work much faster than a roll lamination machine. The equivalent of a 300 ft roll of laminating film can be processed on a UV coating machine within 6 minutes if you have a roll to roll operation. It just does not take that long.
It's flexible
In addition to gloss and matte finishes, you can also find satin or soft-touch finishes from a UV coating machine. If you need special textures, those are available too. Tech Lighting has a line of specialty rollers that can coat documents with specialty designs.
UV coating is the technology of the future for document finishing. It is designed specifically for digital print. You can run large projects or short-run projects through your UV coating machine. The cost of ownership both up-front and ongoing are far lower than the cost of running a laminating machine. In the end, it helps you add more margin to your projects.
Related Posts from The Print Finish Blog