Have a Tec Lighting UV Coating Machine?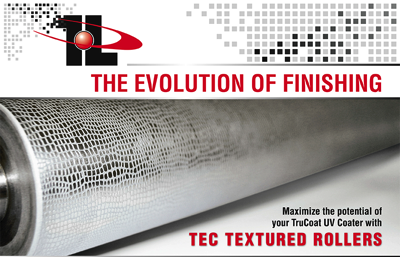 We know that UV Coating is an inexpensive way to finish documents with coating costs at pennies on the dollar. You should not be losing money running your UV coating operation. But the question today is how do you make more money using your UV coating machine?
If you are using a Tec Lighting TruCoat machine, they have a solution to help you add value to your machine. The TruCoat 16", 21", and 30" machines can offer a Textured finish to products. This is done using a textured roller system that has several finishes available including:
Small Playing Card
Large Playing Card
Stone
Wood
Small Linen
Large Linen
Small Canvas
Large Canvas
Reptile
Rain Drop
Golf Ball
Fish Scales
How does it work?
The textured rollers work on the TruCoat series of UV coating machines from Tec Lighting including:
TruCoat 16"
TruCoat 21"
TruCoat 30″
The initial requirement to use textured rollers is the need to purchase a textured roller and a metering roller. Once a metering roller is purchased, you can then purchase individual textured rollers to add to your textured options.
Textured finishes give your customer a new visual option along with a touch option. Imagine, you are running postcards for your customer's mail campaign. A Textured finish will certainly stand out among the mail your customer's prospects pick out of their mailbox. The most important thing is that a prospective customer picks up their direct mail piece.
With a textured finish, your customer's marketing material will stand out from the rest of the pile. In today's competitive landscape, every little trick to draw attention to a buyer is the difference between an outstanding marketing campaign versus a mediocre campaign.
With a textured roller, you can charge a little more for your UV coating services turning your UV coating machine into a better profit center.
[box]
Golf Ball Textured UV Coating Machine Roller
1 Textured Roller/1 Metering Roller = $1,800.00
1 Textured Roller = $900.00
[/box]
[box]
Fish Scale Textured UV Coating Machine Roller
1 Textured Roller/1 Metering Roller = $1,800.00
1 Textured Roller = $900.00