Paper Folder for Print Shops
Print shops can use paper folders in their production area. They are a handy tool when customers ask for a specific fold their office printer can not do. You can choose between manual or automatic folding machines. The automatic machines are powerhouses and offer the most folds you may need to finish projects for clients.
Unlike its younger brother the 207M, the 408A Automatic Programmable Tabletop Paper Folder makes custom folds as easy as the touch of a button.  But, it does retain some of the great qualities of the manual model – it's manufactured with MBM Corporation quality, it's fast and it's very affordable.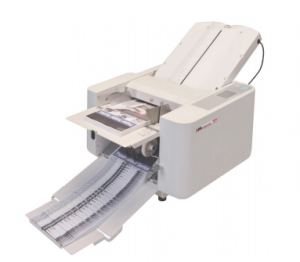 The 408A Programmable Paper Folder is pretty fast too. You'll load your feeder with 450 sheets and then fold more than 11,500 sheets per hour. I'm impressed. It's got some nice adjustment options for different alignment and types of paper, plus it will let you know if there's a problem with a friendly little *beep*. Really, I'd prefer a foghorn, but the408A makes up for that with those six programmable folds. They're convenient and time-saving.
And How Much Does it Cost?
The MBM 408A Automatic Programmable Tabletop Paper Folder is $3,509.10 at Lloyd's.
Related Posts from The Print Finish Blog