In this series of posts, "How do I choose?", we will help you take a little of the guesswork out of selecting the best print finish product for your shop or office. It's sometimes difficult to find the right machine to fit your needs when there are so many models.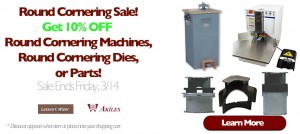 For example, Lloyd's has nine different round corner machines. There are options and add-ons for some, and others are simply manual. In each purchase you make, you should consider the following as it relates to your business's operation.
Corner rounders are pretty simple machines. They basically make measured cuts on the corner of your printed sheets. This finishing method has always been popular, but more-so in recent years as print products mimic the style of online communications. It's not often that you see an icon or a photo online with squared-off corners.
So, let's look at application first. Are you printing posters or business cards? Are you printing on heavy or standard stock? The size alone may rule out a manual table-top rounder, so be sure to look at the table dimensions. And, heavy stock may require the power an automatic can provide – which also puts you over $1,000. If you'd like the option to cut through metal for signage production, you'll need a specific machine.
For rounders I think quantity and speed necessary can be measured by the capacity of sheets you can feed the machine at one time (in inches). A rounder in the hobby category may only accept a few sheets at a time with a .04″ clearance, but commercial medium and heavy-duty rounders will allow an inch or more to be cut. Thicker cut, means you'll be moving through projects faster. Do you think your capacity will grow or remain the same? Choose a model for 2 years down the road, rather than one you need today, because your needs will hopefully grow once you add this machine.
The frequency of your use will require replacement cutting dies, so the availability and cost of these parts should also be a consideration. You'll also want to investigate the variety of blade sizes and designs available for a particular model as well. A wide variety of cutting options will also add to your flexibility and options for the customer.
Finally, consider maintenance. All Lloyd's corner rounders come with a year warranty, but looking beyond this time frame consider your potential frequency of use and the availability of replacement parts.
To check out Lloyd's selection of corner rounders and compare models, visit our website. There is a sale through March 14, 2014. Take advantage of our 10% discount. (Discount appears after you put item into cart).
Related Posts from The Print Finish Blog