Do you run a small services business like a UPS mailbox store, or a small office store? Have you ever considered adding print finishing to your offerings? Over the next couple of weeks we are going to work through the different machines you need to get started to offering print finishing behind your color printer.
Despite the move to electronic for many business items, there is still a need for printed materials. Electronic materials alone do not tell your story. The challenge with electronic materials is the scan versus read phenomenon. Eyeballs tend not to read off an electronic screen. They scan information. Printed material still provides the eyeball a more pleasing experience. The eyeball can take in the whole experience.
So, local business and local marketers still have a need for printed materials. If you set up a shop, you can take advantage of the market out there. This week, we are going to work through the basic items you need to get your print shop started. We will call it the Bronze offering. It allows you to offer your customers the following print finish services:
Book Binding
Lamination
Cutting
Business Card Production
So, your printer salesman has sold you the latest in color printing which you can now offer as a service to your customers. Now, they need some additional services from you. So, what machines do you need to support your operation to get started?
This is a great starter binding machine. I gives you the ability to offer coil, comb, and wire binding services to customers. It is a manual punch operation that can process up to 25 sheets at a time. It's a great cost which it will only take an order of about 50 books to pay for itself. Akiles FlexiPunch-M (AFPM) is an innovative modular punching machine with manual operation and an affordable price that gives you the binding options you need in everyday work. You can do a coil binding job, and moments later change to wire or comb binding project using the same primary punch and quickly changing the die.
Lamination is a great service to offer. There are several products that can be produced through lamination including items like phone lists, marketing place mats, id badges, marketing luggage tags. There are multiple pouches that can be purchased for a variety of outputs. The Akiles APL Pro Lam 320 pouch laminator is a professional pouch laminating machine. The APL 320 is a great starter pouch laminator for commercial or industrial applications.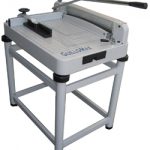 Every office will need a guillotine paper cutter. After you print out a production job, you may need to cut it down for a lamination project or even a book binding project. It is a handy item to have in your office. Every office needs a Guillotine Paper Cutter.
There are still a lot of people out there looking for business cards. They can go to some of the cheap online companies, but there are still people out there that like to work with local providers. With your color printer and the ability to print card stock, you can now run the finished product through the HS-2000 M Manual Business Card Slitter. All you need is to find some real estate agents, do a great job and it will pay for itself in no time.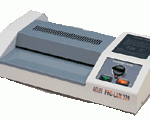 The total price to set up your print finish operation based on your machines only: $2,500 and is 100% finance available.
With all these machines, you can receive 100% financing. There are several advantages to leasing machines which we will discuss on Thursday. With a lease, it provides you the flexibility to upgrade.  If business is up, just swap machines for an automated one.
Related Posts from The Print Finish Blog