Roll laminators are intended for commercial purposes. These machines are widely used in print shops, business service shops, and copy centers. Its many variations were designed to accommodate different commercial-standard roll laminating necessities. There is a specific model created to produce a particular product or result, i.e. printed materials, signage, banners, or documents. Sizes vary as much as the purposes. Popular ones include 12" and 60" wide formats.
Because of its diversified usefulness, roll laminators are popularly used in several types of industries and companies. If you are planning to get one for your business, you may find it confusing to choose the best laminator that fits your needs. Knowing the basic processes of this useful equipment will help you decide on what features you can use for your business's purposes.
Cold Roll Lamination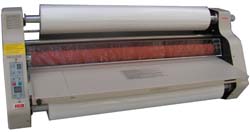 Cold roll lamination became widely popular when wide-format ink jet printers, which was known to use papers and inks perishable to heat, became the rage. This process involves using a pressure sensitive laminating film, which has one side covered with adhesive and the other a glossy backing. The latter can be peeled off to expose the adhesive side for sticking purposes. Since the process does not require heat, the cold roll equipment is used. With this process, you do not have to buy expensive equipment. You will find it particularly useful for laminating materials that are easily damaged by heat.
This type of roll laminator comes in several variants: simple and two rollers; manually operated machines; and large motor-powered equipment with sophisticated features such as high precision rollers and adaptable roller pressure. Cold roll lamination is commonly utilized in the print and signage-making industry.
Hot Roll Lamination
Hot roll lamination uses thermal equipment. It works through heated rollers that melt glue placed onto lamination film, which in turn is then applied onto a card or paper with the use of pressure rollers. Because it comes in different sizes, you can choose the one which perfectly fits into your available work space. Regardless of size, however, hot roll laminators are primarily utilized for either decorating or protecting printed materials. They apply lamination film of differing thickness onto fabrics or paper.
The equipment typically uses two strategically placed rolls, one on top and the other at the bottom. These rolls, which could either be heated rollers or shoes, melt the adhesive that is placed on the lamination film. Heating the adhesive applied on the film prior to its application on paper/fabric, speeds up the process. Unlike the cold lamination process, heat roll lamination may be more affordable since it requires cheaper adhesives and laminates.
Related Posts from The Print Finish Blog