The different methods depending on if you use comb, coil, wire or unibind, can be a manual or electric punch for heavier projects. Below is a brief explanation of  binding machines' price points and how they're used in a business setting.
Coil Binding Machines – You have your choice of electric or coil binding machines at Lloyds of Indiana. Electric coil binding machines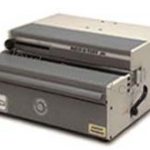 are obviously faster, but they offer you a professional look for variable binding volumes. Your office will realize a return on investment from having your binding machines in-house, available to meet your deadlines. The cost range for our coil binding machines ranges from $143 to $3779 and for details on our coil binding machines, here is a convenient link for you:
Comb Binding Systems and Machines – You will realize cost savings by completing your professional-looking books while shaving off 50% of the time required and thousands of dollars in outsourcing your projects, at a home office or in a larger organization. Our comb binding systems and machines enable you to make your trade paperbacks and hardcover books in-house easily and promptly. Lloyds of Indiana price points for comb binding systems and machines range from $140 to $1479. Here is a link for your convenience to our comb binding machines and systems:
Wire Binding Machines – Ideal for office environments where high-volume binding is the norm, wire binding machines use wire rather than coil and are mostly lightweight, manual machines, although you can get electric or automatic versions—Lloyds of Indiana offers you both versions–of the wire binding machine. Ideally, you're using wire binding machines for calendars, recipe books, journals, notebooks and similar projects. These wire binding machines range in price from $239 to $1726. For your convenience, here is a link to Lloyds of Indiana wire binding machines: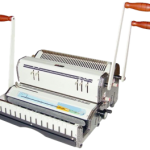 Unibind Systems – Very easy to use. What makes the Unibind System so easy is it does not require any paper punching. You simply print out your presentation or document, place it into your binding cover, set on the heating element to bind. The heating element activates the binding glue which holds the document together. The covers come in multiple sizes and styles. There are plastic cover for smaller documents and hard cover for a very professional document. If you need to swap out a page, you simply reheat the bind and remove and replace the page or pages. Unibind prices out between $455 for small office to $4500 for a large production model.
If you have any questions deciding which works best for you, feel free to call the experts at Lloyds of Indiana. They can help you figure out the best solution based on how you will be using binding equipment. There is always a human to answer the phone.