Almost any piece of equipment which processes cut-sheet paper or envelopes could stand to be jogged. Align and separate forms, paper or envelopes for proper feeding. Joggers also reduce static electricity caused by laser printers.
Let's walk you through some of the highlights of one of our models.
The FD 402P3 Three-Bin Paper Jogger is ideal for higher volume environments and provides quick and easy alignment for a wide variety of paper sizes and thicknesses.
Features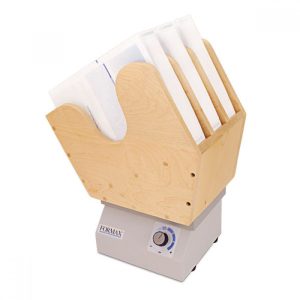 Solid State Control Switch: Controls on/off and vibration speed
Variable Speed: Up to 4,000 vibrations per minute/60Hz operation, aligns paper in seconds
Tilted Rack: Ensures proper jogging of smaller stacks
Advanced Design: Electromagnetic design for continuous operation
Various Capacities: Three models offer a choice of capacity, from 4" x 8" envelopes to 11" x 17" paper
Slotted Clean-Outs: Allow paper dust, staples, paper clips, and other debris to exit the jogging bin
Easy-Load Bin Cut-Outs: Allow operators to easily move paper and envelopes in and out of the bins
Jogging forms help to separate them and reduce static electricity for accurate feeding through pressure sealers, folders, inserters, and other paper handling equipment. Simplify your production with a document jogger today!
Shop all paper joggers from Lloyd's of Indiana now: https://lloydsofindiana.com/paper-handling/paper-joggers
Related Posts from The Print Finish Blog