With security on almost everyone's mind these days, Photo ID badge systems have become relevant for everyone. Photo ID badges are the first line of defense in many organizations' security programs. Fulfilling the basic need to know "who's who" is just the starting point: Additions like printed bar codes and encoded magnetic stripes help these organizations get the most out of their badges.
ID cards help resolve security and efficiency issues for governmental entities. Organizations are using Fargo Card Identity Solutions to make ID badges, time and attendance tracking, payroll processing, and access control of facilities and information more secure and cost-effective. ID card printers are great for fitness centers, health clubs, schools, retirement homes, hospitals, and any organization that needs to know "who is who".
Let us help find the right ID system for your needs, we have the knowledge and experience. We stock a large variety of ID systems, including the Fargo Electronics line. Fargo ID badge printers are top of the line and have a great warranty.
Let's talk a little bit specifically about one of our models. This is the HID FARGO DTC1250e ID Double-Sided Direct-to-Card Printer & Encoder. It's an ideal card printing solution for small businesses, schools, and local governments.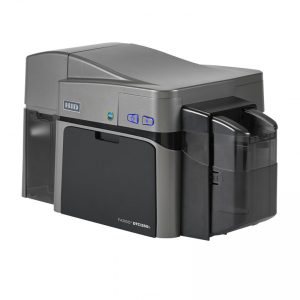 Its small, compact footprint makes it easy to use in a variety of office environments and can be easily upgraded to include an embedded iCLASS SE® encoder (part of the iCLASS SE platform), enabling you to produce secure, personalized membership and loyalty photo ID cards in one single, seamless step. An optional Wi-Fi® accessory is also available to help you print anytime, anywhere.
Product Highlights:
Fastest printer in its class
High-quality output
Simple plug-and-play
Convenient and affordable
End-to-End Control
Flexibility and Security
Additional Data Protection
Shop the HID FARGO DTC1250e ID Double-Sided Direct-to-Card Printer & Encoder here or shop all our ID badge printers here.
Related Posts from The Print Finish Blog