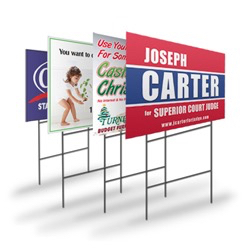 A yard sign play an important part in spring. It's the time of the year that people need to signs to direct traffic for their events like soccer tournaments, baseball tournaments, or track meets. Yard signs are nice inexpensive tools to help you communicate special events. We have even seen them used for high school graduation parties.
They are cheap to print, easy to design, and can be used over and over again. The primary size is 24 x 18 signs. But, you can also get signs in 18 x 24 vertical size, or 36 x 34. They can come with metal stakes to put into the ground. They are made out of corex material which allows them to be printed in any color.
Depending on what you are using it for, there are some tips for designing your yard sign. If you are advertising for an election, or you want to sell an event for people driving by on the road, keep the information simple and direct, so people can read what you are saying. Too much text or a dark color may not be the best for drive by advertising.
If you are using a yard sign to direct foot traffic, be direct here too. Use the right language to steer your walker. Keep the design simple, so there is not much thinking on part of the reader. It's a keep it simple idea.
They are printed with UV protected ink, so they are protected from UV rays. Make sure your image file you design is in a PDF format so your printer can print it for you. If you do not understand, your printer can also provide design services for you.
How much do they cost?
You can get 2 sided yard signs that start at $14.99. You can find them at Custom Print Products.
For a limited time, get 20%OFF using Coupon Code: YDSpring2017 on Yard Signs and Outdoor Flags.
Related Posts from The Print Finish Blog