The Print Finish Blog is a service of Lloyds of Indiana and the print finishing knowledge source for print & sign shop owners, corporate mailrooms and small business owners.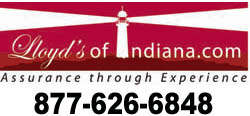 Lloyd's of Indiana is a supplier of graphic finishing products including laminating, binding, paper handling and other finishing equipment. We offer a complete line of printers, supplies and accessories for identification and ID badge printing.
The print industry information we share here is meant to help you:
1. Save time – by reviewing or recommending the right print finishing products and techniques

2. Save money – by alerting you to special programs, cautioning you against common mistakes or helping you leverage your work force

3. Boost profits – by sharing the latest marketing & promotion strategies to get more customers or create better print products & services
The Blog is managed by Melissa of Lloyds of Indiana, a company that sells and supports print finishing equipment.
Story submissions and comments both are welcome – so long as they cover something to do with print finishing.