With all of the various binding methods available to you, how do you know which one works best for you? Today we are going to explore comb binding, coil binding, wire binding and Unibind system, as well as accompanying items needed for these binding process, like the comb opener, the electric coil inserter, and the wire pincher.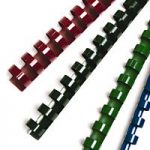 Comb Binding is the more traditional, economical binding machine method often seen on cookbooks and manuals. You would usePVC plastic comb spines. You would place the plastic comb in a comb opener to spread the round rings apart, and then close the comb around a stack of paper, which binds the book. Standard 8.5″ x 11″ sheets use 19-ring combs. You can easily reopen these books to add or remove pages.
Coil Binding is where you see a continuous plastic coil spun through a series of closely spaced holes along the binding edge. This

enables the pages to turn 360 degrees, so the books can lay flat. An electric spiral binding coil inserter is the ideal tool for fast turnaround. It also allows you to crimp off the excess coil by simply pressing a foot pedal.
Wire Binding is what you typically see on calendars and notebooks. Wire binding uses a continuous hinge of paired loops to bind books together. You would use a wire pincher to crimp off the excess wire binding. Like coil, wire allows the document to open wide with little problem on a flat surface, while offering a classy look to the document.
Unibind is a brand of thermal binding process you see on wrap-around book covers. The spine has a pre-applied, heat-activated adhesive. You place your loose pages into the thermal binding cover–which can be a hard cover or a soft cover–and place it into the binding machine. The weight of the document will activate the heating element. It has a preset time for operation. Once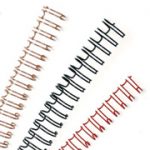 complete, you move the document to the cooling rack.
Which system to use will depend on the purpose for document binding machine. For marketing, coil, wire and the Unibind system provide the flexibility to conform to your brand marketing. If you are printing training manuals, a coil system would be best as it is rugged and flexible for readers. Comb systems make it easy to switch pages.
However you use it, document binding makes your organization look professional. If not being used for marketing, it still represents your brand in a positive way. The next step is figuring out which one works best for you.
As consumers today are searching for more local and American made products, laminating machines and other laminating equipment has been difficult to find. However, we've managed to locate several different types of laminating machines, laminators and additional laminating equipment that is produced and sold right here in the United States of America.
Our favorite laminator/laminating provider is Lloyds of Indiana, Inc. They offer a wide range of American made laminators and have an excellent selection of American educational laminators both heated (thermal) and pouch types of laminating machines. Below is just a small a summary of what lloydsofindiana.com offers for competitive, American laminating machines and American laminating solutions.
American Pouch Laminators
Banner American PL4A Pouch Laminator
The Banner American PL4 pouch laminator is ideal for laminating ID cards and badges, membership cards, luggage tags, etc. Laminate up to 4″ wide and as thick as 10 mil pouches! The PL4 Features a 4 roller system to provide the highest quality laminating results. Easy to operate and a short warm up time make this laminating machine one of the best selling pouch laminators. The PL4 has been the consumer choice for many years.
Banner American PL135-4 Pouch Laminator
The PL135-4 pouch laminator is perfect for laminating ID cards and badges, membership cards, luggage tags, etc. In addition to cards,The Banner American PL135-4 will laminate larger documents up to 12″ x 18″, or A3 in size.
American Heated/Roll/Educational Laminators
Banner American Entry 4500
The ENTRY 4500 Laminating and Mounting machine is the ideal laminator for large-format imaging services. The ENTRY 4500 is capable of mounting, laminating and encapsulating output from 36″, 42″ and 44″ inkjet printers. Affordable and functional, the ENTRY 4500 is loaded with features important in giving you the highest level of results for each and every project.
The ENTRY 4500 Laminating/Mounting machine offers carefully designed features intended to quickly get you up and profitably running without the added expense of more advanced machines. The easy-to-use design makes the operator's job simpler.

25″ Ledco Educator Laminator
The 25″ Ledco Educator laminator 110V / 220V is designed for teachers to protect and enhance posters, dry erase charts, flash cards, bulletin board graphics, games, visuals and teaching aids of all kinds.
The Ledco Educator offers simplified controls to help eliminate many common errors often associated with complicated thermal laminators. With added options for use with 1.5 mil, 3 mil and 5 mil the Ledco Educator laminator 110V / 220V is designed to handle and produce a multitude of projects with ease for the many requirements that face today's teachers.
For more American made laminating machines, laminating equipment or laminators; or for any American made binding machines, American uv coaters and supplies or other print finishing needs please visit lloydsofindiana.com and review their "Made in America" section of their web site.
As the nation is now seeking job creation, a strong dollar and most importantly American Made Products, ABC 'World News' has issued a challenged to all those in tune with the economy to keep America #1. They are challenging everyone to: buy American made products/services, and hire American workers to fulfill American Jobs.
"As the print-finishing industry is one of the most underestimated industries out there, one company has taken the effort to promote the American Made Challenge–Lloyds of Indiana, Inc.; As their wonderful "Assurance through Experience" resonates with their newly turned aged of 25 years, Lloyds of Indiana is sure to become one of the most lasting, and most memorable companies of 2012." — Made in USA.
There are as many ways to print your photos as there are photos themselves, and likewise, nearly as many ways to preserve them. Ink jet and dye sublimation, as well as traditional methods of printing photos will each benefit from some form of protection from the elements. Sunlight, chemicals like the acid residue found on most papers and temperature extremes can cause pictures to fade, discolor.
Coatings can be applied to the finished photo, which will put a well distributed coating of a chemical base on the surface of your photograph , which dries to a thin film to protect your photograph. The protective film is not thick enough to protect the photo against water damage or acid residue, but provides a degree of protection against fingerprints and ultraviolet damage.
Albums also provide reasonable protection for photos – so long as they are stored in a temperature controlled, dry place.. Albums provide great protection with acid free paper and thin film pages, but do not protect against humidity or water damage.
For the ultimate in protection, consider laminating your photographs. Lamination protects against high light, humidity, chemicals, fingerprints (you can actually wash a laminated picture with soap and water) and nearly any other environmental factor. Laminating works by encasing the photo in a transparent plastic shell. The degree of protection provided by photo laminating can be adjusted by altering the thickness of the laminate used.
The supplies necessary to protect your photographic memories with lamination are minimal. Usually all it takes is a pouch laminating machine, and special photo pouches. Photo laminating pouches such as LoydsofIndiana.com's PhotoPouch brand are specially sized and formulated to work with traditional photograph prints as well as inkjet, laser prints and dye sublimation prints. PhotoPouches will protect your professional or personal quality photographs, are easy to use and provide for your photos protection at a cost that is more than reasonable for home or business use. Laminating machines can be purchased which will coat and seal photographs up to 13 inches in width. The machines themselves are easy to use.
The cost to laminate your photos will be about 10 cents per photo, which seems a very small price to pay for the peace of mind you get back knowing your business or home photos are protected from the elements that might damage or destroy them. In comparison to losing the photo of a lifetime, or losing critical photographic evidence makes that 10 cent investment seem tiny.
PhotoPouch brand laminating pouches are exclusively available from Lloyd's of Indiana (www.lloydsofindiana.com) and select distributors. Lloyd's can provide for your laminating needs with machinery and photo pouch supplies, purchased from an easy to search web site which will keep track of your cumulative orders and any discounts you may have coming, to assure that not only your photos are protected, but so is your time.