With all of the various binding methods available to you, how do you know which one works best for you? Today we are going to explore comb binding, coil binding, wire binding and Unibind system, as well as accompanying items needed for these binding process, like the comb opener, the electric coil inserter, and the wire pincher.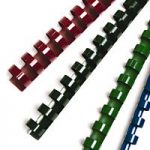 Comb Binding is the more traditional, economical binding machine method often seen on cookbooks and manuals. You would usePVC plastic comb spines. You would place the plastic comb in a comb opener to spread the round rings apart, and then close the comb around a stack of paper, which binds the book. Standard 8.5″ x 11″ sheets use 19-ring combs. You can easily reopen these books to add or remove pages.
Coil Binding is where you see a continuous plastic coil spun through a series of closely spaced holes along the binding edge. This

enables the pages to turn 360 degrees, so the books can lay flat. An electric spiral binding coil inserter is the ideal tool for fast turnaround. It also allows you to crimp off the excess coil by simply pressing a foot pedal.
Wire Binding is what you typically see on calendars and notebooks. Wire binding uses a continuous hinge of paired loops to bind books together. You would use a wire pincher to crimp off the excess wire binding. Like coil, wire allows the document to open wide with little problem on a flat surface, while offering a classy look to the document.
Unibind is a brand of thermal binding process you see on wrap-around book covers. The spine has a pre-applied, heat-activated adhesive. You place your loose pages into the thermal binding cover–which can be a hard cover or a soft cover–and place it into the binding machine. The weight of the document will activate the heating element. It has a preset time for operation. Once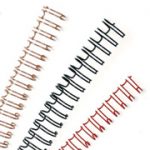 complete, you move the document to the cooling rack.
Which system to use will depend on the purpose for document binding machine. For marketing, coil, wire and the Unibind system provide the flexibility to conform to your brand marketing. If you are printing training manuals, a coil system would be best as it is rugged and flexible for readers. Comb systems make it easy to switch pages.
However you use it, document binding makes your organization look professional. If not being used for marketing, it still represents your brand in a positive way. The next step is figuring out which one works best for you.
If you need to replenish your binding report covers, Lloyds of Indiana is running a one week sale. They are giving 20 % off any purchased from 4/24/2013 to 4/30/2013. Lloyds of Indiana carries a wide variety of report covers for comb, coil and wire binding reports. If you have been want to order a different color or different covers, now is a good time. Here are the details:
Order from Lloyds of Indiana and receive 20% off your binding covers!
Coupon Code: 424COVERS
Valid: 4/24/2013-4/30/2013
Here are some of the Covers that are available:
Crystal Clear Binding and Report Covers

Crystal Clear binding covers are 10 mil clear binding covers from lloydsofindiana.com A perfect choice to show off your book cover or report.

Available in three sizes and with round corners and tissue interleaving.

Add a clear back cover to your book or add a solid back with our many colors of flexigrain or linen covers.

(100 pieces per box)

Flexigrain Binding Covers

Flexigrain covers have that popular vinyl look commonly referred to as "Composition" or "Report Covers."These covers work for comb, coil and wire binding systems.These report covers are very durable and tear resistant.

Flexigrain covers are available in a large variety of colors and sizes.

Embossed Binding Covers

Embossed binding covers are economical and durable 80lb. cover stock with an embosses texture pattern.

These report covers work on comb, coil and wire binding systems.

Give that nice elegant embossed look to your next report or presentation or book.

100 sets per box (200 pieces)

Linen Binding Report Covers

A classy yet inexpensive binding cover, constructed of 80lb cover stock with a linen-texture finish.

These report covers work on comb, coil and wire binding systems.

Linen Report covers are the most common cover for presentation and reports.
Add the great look of linen at a low price.100 per box
There is more!

USE COUPON CODE: 424COVERS
A binding machine plays an important part in your sales cycle. Successful sales organizations have a well-defined sales cycle from prospecting to close. Have you documented your sales process? Do you know each point of the process where decisions will be made to either go forward or walk away? Does your process get prospects to tell you the truth?
So what does this have to do with a binding machine?
Believe it or not, a good binding machine plays an important part of your sales cycle. It's the difference between a leaving a good first impression versus a disapproving look on your prospects face.
A good friend of mine who sells software recently told me a story about a sales situation where he was competing against another firm. The company he represents provided a competitive price and a sound recommendation for what his prospect needed. The competitor had a reputation of always over promising and under delivering. Yet, he ended up losing the business because the other firm's presentation was far flashier. The presentation material was obviously done with a high-end binding machine.
I don't know where this saying comes from, but it does ring true: "People are not rational, they rationalize what they do." Despite given the facts, a pretty presentation can be the tipping point.
So, ask yourself, is your document presentation up to competitive standards? Is your proposal material second to none? Do you have the right binding machine system to make you look good?
Over the next couple of days, we are going to talk about the different binding machines that are out there and how to use them. So, keep an eye on this site to learn more.
As direct mailing has become one of the most effective ways to market during the holiday season, lloydsofindiana.com is proud to extend their line of document mailing equipment. Starting now, you can completely over-haul your mail marketing from start to finish–automate and simplify your mailings with an inserter, document folder, or a pressure sealer. lloydsofindiana.com saves time and money by speeding up your mail processing. Be sure to browse their quick, handy document signers as well.
Document Folders
Fold thousands of sheets of paper per hour with our tabletop or floor model automatic document folders. Every office that mails statements, invoices, marketing material and other printed documents can use a folder. Folding machines are easy to setup and easy to operate. Simplify your office today!
For a full list of Document Folders offered by lloydsofindiana.com click here.
Document Inserters
Our document inserters let you quickly stuff envelopes and prepare mass mailings. Our letter inserters and document inserters are perfect for light, medium and heavy duty use.
For a full list of Document Inserters offered by lloydsofindiana.com click here.
Envelope Openers
Automate the tedious task of opening incoming mail with the Formax FD 450 automatic letter opener. The Formax FD 450 reliably operates at speeds of up to 300 envelopes per minute. One side of the envelope is slit so that the contents are left undamaged with no messy paper scraps to clean up. This increases work flow and ensures document integrity.
To learn more information about the Formax FD 450 please click here.
Pressure Sealers
Increase Your Productivity And Your Reduce Labor Cost!!
Lloyd's of Indiana offers pressure sealers for quick mailing solutions. Fold and seal at the same time with a pressure sealer. Our pressure seal folder sealer machines reduce post processing time by folding and sealing documents into mail ready pieces. No need to use envelopes. Manual or machine steps required to fold, seal, stuff and stamp mail pieces into an envelope are completely eliminated. Pressure seal folder sealer machines are used in conjunction with pressure sensitive forms to create self mailing forms and documents ready for the mail.
For a full list of Pressure Sealers exclusively at lloydsofindiana.com click here.
Document Signers
Document signers apply a signature to a letter that is nearly indistinguishable from a real signature.
For a full list of document signers click here.
Need paper cutters, trimmers, drills, joggers or shredders? lloydsofindiana.com is your one stop resource for all paper handling equipment.
As the holidays approach this season, many businesses are looking for that special gift of holiday spirit to send to their clients, business partners, employees and/or affiliates. However, finding that "special gift" has become increasingly more difficult as time progresses–and with a new year approaching, companies need a "special approach" to remain competitive, efficient and prepared for the new fiscal quarter (Q1 2012).
With the dawn of cloud-computing now in full swing (and with the over-commercialized use of the internet), many people feel as though society has become less involved, and less interactive on an offline-basis than in years previous…
When holiday seasons begin, businesses are asking themselves:
HOW CAN WE. . .
Increase our production efficiency
Expand our consumer awareness
Improve our customer loyalty
Maintain & Develop our business relationships
Strengthen our strategy for the next fiscal year
Well, as people are moving away from the offline-basis of communications, hosting a corporate event may be the "special gift" your company needs. Providing a nominal, relaxed and seasonal event is an excellent way to boost overall business reputation and a great way to reward your hardworking team of hands. But why not go the extra step, why not surprise your employees, your loyal clients and your long standing business partners. With the new fiscal year approaching, and with the tax incentives of Section 179, your business has the potential to prepare well, in fact, so well you may change your nominal, seasonal corporate event into an astounding New Year's Celebration.
However, to pull this off your going to need visit lloydsofindiana.com for all of your laminating, binding, paper handling and graphic finish needs, and then you may want to gather some invitations from GoPromoting.com to keep your event planning at its best. 'And for the remainder of your party supplies, you may try a friendly, sociable store around your local area. Or you could just visit CustomPrintProducts.com for all of your specialty printed signs, banners and displays.
No matter what your plans are for this year's events–time is still ticking–and great savings and Section 179 Advantages end this year! So hurry up and get your planning done, and finalize those year end sales, its your time for fun.