The different methods depending on if you use comb, coil, wire or unibind, can be a manual or electric punch for heavier projects. Below is a brief explanation of  binding machines' price points and how they're used in a business setting.
Coil Binding Machines – You have your choice of electric or coil binding machines at Lloyds of Indiana. Electric coil binding machines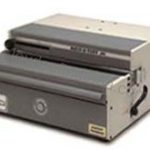 are obviously faster, but they offer you a professional look for variable binding volumes. Your office will realize a return on investment from having your binding machines in-house, available to meet your deadlines. The cost range for our coil binding machines ranges from $143 to $3779 and for details on our coil binding machines, here is a convenient link for you:
Comb Binding Systems and Machines – You will realize cost savings by completing your professional-looking books while shaving off 50% of the time required and thousands of dollars in outsourcing your projects, at a home office or in a larger organization. Our comb binding systems and machines enable you to make your trade paperbacks and hardcover books in-house easily and promptly. Lloyds of Indiana price points for comb binding systems and machines range from $140 to $1479. Here is a link for your convenience to our comb binding machines and systems:
Wire Binding Machines – Ideal for office environments where high-volume binding is the norm, wire binding machines use wire rather than coil and are mostly lightweight, manual machines, although you can get electric or automatic versions—Lloyds of Indiana offers you both versions–of the wire binding machine. Ideally, you're using wire binding machines for calendars, recipe books, journals, notebooks and similar projects. These wire binding machines range in price from $239 to $1726. For your convenience, here is a link to Lloyds of Indiana wire binding machines: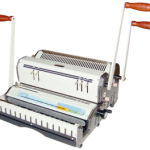 Unibind Systems – Very easy to use. What makes the Unibind System so easy is it does not require any paper punching. You simply print out your presentation or document, place it into your binding cover, set on the heating element to bind. The heating element activates the binding glue which holds the document together. The covers come in multiple sizes and styles. There are plastic cover for smaller documents and hard cover for a very professional document. If you need to swap out a page, you simply reheat the bind and remove and replace the page or pages. Unibind prices out between $455 for small office to $4500 for a large production model.
If you have any questions deciding which works best for you, feel free to call the experts at Lloyds of Indiana. They can help you figure out the best solution based on how you will be using binding equipment. There is always a human to answer the phone.
With all of the various binding methods available to you, how do you know which one works best for you? Today we are going to explore comb binding, coil binding, wire binding and Unibind system, as well as accompanying items needed for these binding process, like the comb opener, the electric coil inserter, and the wire pincher.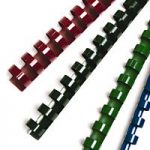 Comb Binding is the more traditional, economical binding machine method often seen on cookbooks and manuals. You would usePVC plastic comb spines. You would place the plastic comb in a comb opener to spread the round rings apart, and then close the comb around a stack of paper, which binds the book. Standard 8.5″ x 11″ sheets use 19-ring combs. You can easily reopen these books to add or remove pages.
Coil Binding is where you see a continuous plastic coil spun through a series of closely spaced holes along the binding edge. This

enables the pages to turn 360 degrees, so the books can lay flat. An electric spiral binding coil inserter is the ideal tool for fast turnaround. It also allows you to crimp off the excess coil by simply pressing a foot pedal.
Wire Binding is what you typically see on calendars and notebooks. Wire binding uses a continuous hinge of paired loops to bind books together. You would use a wire pincher to crimp off the excess wire binding. Like coil, wire allows the document to open wide with little problem on a flat surface, while offering a classy look to the document.
Unibind is a brand of thermal binding process you see on wrap-around book covers. The spine has a pre-applied, heat-activated adhesive. You place your loose pages into the thermal binding cover–which can be a hard cover or a soft cover–and place it into the binding machine. The weight of the document will activate the heating element. It has a preset time for operation. Once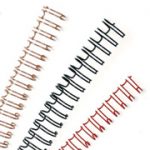 complete, you move the document to the cooling rack.
Which system to use will depend on the purpose for document binding machine. For marketing, coil, wire and the Unibind system provide the flexibility to conform to your brand marketing. If you are printing training manuals, a coil system would be best as it is rugged and flexible for readers. Comb systems make it easy to switch pages.
However you use it, document binding makes your organization look professional. If not being used for marketing, it still represents your brand in a positive way. The next step is figuring out which one works best for you.
Once you've made the decision to move your binding operations in-house, the next step is making the capital investment in a binding machine. How do you know which machine is the best fit for your unique situation? Here are some things to consider:
How many sheets do you need to punch through per lift?
How many cycles per minute do you need to achieve to be cost effective?
Which type of binding system do you prefer to use? Coils? Wire? Combs?
How many bound pieces will you be creating in a week?
Here at Lloyd's of Indiana, we have more than 25 years' experience in advising companies on the type of binding equipment they need to maximize their efficiency and keep their costs low.

If you need your commercial-grade binding machine to bind with four different methods, the VersaMac offers that feature with its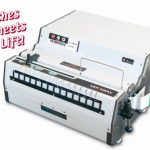 interchangeable dies. This piece of equipment punches 55 sheets per lift and is robust enough to handle 500 books per week for 7 years at 30 cycles per minute. The learning curve on this particular binding machine is short, so your personnel will be up and running in no time, increasing your productivity and sales of binding projects.
If you require a machine that can bind thousands of books per week, the user-friendly Rhin-O-Tuff is our heaviest Table Top Punch commercial machine with no equal. It handles 90 cycles per minute. Again, it offers the capability of the patented Quick Change Die System, so you have the flexibility to bind your books as needed for each unique binding situation. The Rhin-O-Tuff comes with one standard die, but 20 interchangeable dies are available at a discount with the machine purchase. Also, you will have your choice of 12 standard hole patterns.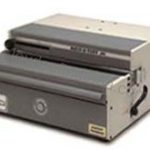 Again, the Rhin-O-Tuff can punch 55 sheets per lift, or 110 pages of 11", 20 lb. or 80gsm bond paper. This machine can handle odd-sized paper, no problem. The patented Anti-Jam Feature detects punch overload. Combine that with the build-in Automatic and Manual Reverse, and you're saved from costly downtime and service calls due to overload jams.
Call Lloyd's of Indiana today–we'll be happy to go over your options in binding equipment with you. We're at 1-877-626-6848.
A binding machine plays an important part in your sales cycle. Successful sales organizations have a well-defined sales cycle from prospecting to close. Have you documented your sales process? Do you know each point of the process where decisions will be made to either go forward or walk away? Does your process get prospects to tell you the truth?
So what does this have to do with a binding machine?
Believe it or not, a good binding machine plays an important part of your sales cycle. It's the difference between a leaving a good first impression versus a disapproving look on your prospects face.
A good friend of mine who sells software recently told me a story about a sales situation where he was competing against another firm. The company he represents provided a competitive price and a sound recommendation for what his prospect needed. The competitor had a reputation of always over promising and under delivering. Yet, he ended up losing the business because the other firm's presentation was far flashier. The presentation material was obviously done with a high-end binding machine.
I don't know where this saying comes from, but it does ring true: "People are not rational, they rationalize what they do." Despite given the facts, a pretty presentation can be the tipping point.
So, ask yourself, is your document presentation up to competitive standards? Is your proposal material second to none? Do you have the right binding machine system to make you look good?
Over the next couple of days, we are going to talk about the different binding machines that are out there and how to use them. So, keep an eye on this site to learn more.
Pouch Laminators and Laminating Pouches
With trending demands for pouch laminators, pouch laminating equipment and pouch laminating supplies (laminating pouches) on the rise, finding the right pouch laminator for your specific needs can be tedious. Today's post is about pouch laminating equipment and laminating supplies including: pouch laminator manufactures, types of laminating pouches, types of pouch laminators and our recommended pouch laminators and laminating pouch supplies highlights.
Types of Pouch Laminators
Generally speaking, there are only two predominate types of pouch laminators on the market today: cold pouch laminators and heated
pouch laminators. Cold pouch laminators are (in our opinion) a large waste of money due to how cheap most cold pouch laminators are made. Also, cold pouch laminators never provide a long lasting laminate finishing; however, cold pouch laminators are efficient for extremely simple and low quality pouch laminating applications. On the other side of the pouch laminating spectrum, heated pouch laminators are ultimately the preferred way to go for any type of pouch laminating project, task or job. Heated pouch laminators are often constructed of higher grades of materials than cold pouch laminators, are used for extended periods of time (mostly for commercial and personal use), and can last a lifetime with proper maintenance. The best part of using a heated pouch laminator is the fact that it works for any type of pouch laminating (photo pouch laminating, simple ID laminating, certificate laminating, cover laminating, etc…), very well. More often than not if you see a type of pouch laminator, it's a heated pouch laminator.
Most pouch laminators today range from 6 inches to up to around 40 inches in handling widths. Also, most heated pouch laminators require the use of laminating covers to protect the pouch laminator from over use and to ensure an overall quality of display of your final pouch laminated product.
Pouch Laminator Manufacturers
As the print finishing and laminating markets have shifted over time, a few provident pouch laminator manufactures are in existence today. Some of the most well known, and well trusted, pouch laminator manufacturers include: Akiles, Tamerica, Banner American (now known as Laminator Specialties), GBC, Lamitek, Fellows, Ledco and Purple Cows. Most of the pouch laminator manufacturers today offer both cold and heated pouch laminators.
Akiles is a well trusted brand in today's print finishing industry. Aside from their extensive line of specialty binding machines, Akiles offers quality pouch laminators for any type of pouch laminating project. We actually love using Akiles pouch laminators more than using any other type of pouch laminator. This is mostly due to the fact that they are extremely durable and are very easy to use!
Tamerica also makes a very fine line of pouch laminators and other pouch laminating equipment. Our favorite part about using any of Tamerica's pouch laminators is the fact that run like a steam engine. They are very fast and highly efficient when it comes to power consumption and laminating pouch supply usage.
Laminator Specialties pouch laminators are some of the most widely used commercial and home office heated pouch laminators today. Being that they were previously Banner American pouch laminators, their excellent quality and high durable use has not changed in the slightest.
Types of Laminating Pouches
Laminating pouches today come in all sorts of sizes and dimensions for both standardized and custom pouch laminating uses. The most common laminating pouches on the market today include: letter size laminating pouches, military size laminating pouches, jumbo size laminating pouches, card size laminating pouches, legal size laminating pouches, key card size laminating pouches, school size laminating pouches, menu size laminating pouches, photo size laminating pouches, special size laminating pouches, circulation size laminating pouches and extended circulation size laminating pouches.
Laminating pouches also come in a variety of thicknesses such as: 3mil, 5mil, 7mil and even 10mil as the generally accepted thicknesses in the industry.
Pouch Laminator Highlights
Today our featured pouch laminator is the Akiles Prolam 320 12.5in heated pouch laminator. This pouch laminator is one of our absolute favorites! With a 12.5in width most applications of pouch laminating are easily done with no problems, and best of all with no down time and very fast up time. Here are the quick specks of the Akiles Prolam 320 12.5in:
Extruded Aluminum Heat Plates: Guarantee a good and consistent heat distribution.
Four Silicon Rollers: Eliminate the need to use carriers while ensuring a constant feeding speed.
Built-in Electronic Circuit Board: Allows quick and exact temperature adjustments.
Gradual Temperature Control Allows an easy temperature adjustment when changing pouch thickness, pouch composition, or laminating different materials.
Independent Heat and Motor Switch: Allows the machine to be left on stand-by (heat ready) for hours without depreciating the motor, while eliminating the warm-up time when you need to laminate again.
Heavy-Duty Motor: Does not get tired or over-heat, even under the hardest working conditions.
Steel Gears: Guarantee strength and durability.
Easy To Use & Practical: It laminates with or without a carrier (we recommend the employment of carriers only when using 10mil (4/6) laminating pouches).
Durable:Given its heavy-duty motor, steel gears, silicone rollers, metal cover, etc., the Akiles ProLam is made to last.
Pouch Laminator and Pouch Laminating Supplies Distributor
If your searching for the best of the best of pouch laminators and laminating pouches, then look no further than lloydsofindiana.com! They offer an excellent tech support service (that's free of charge), a 100% satisfaction guarantee on all the laminating pouches and pouch laminators they sell and even fast and easy ordering. Also, we were very pleased with their large selection laminating pouches and other fine print finishing equipment and supplies.