As the holidays approach this season, many businesses are looking for that special gift of holiday spirit to send to their clients, business partners, employees and/or affiliates. However, finding that "special gift" has become increasingly more difficult as time progresses–and with a new year approaching, companies need a "special approach" to remain competitive, efficient and prepared for the new fiscal quarter (Q1 2012).
With the dawn of cloud-computing now in full swing (and with the over-commercialized use of the internet), many people feel as though society has become less involved, and less interactive on an offline-basis than in years previous…
When holiday seasons begin, businesses are asking themselves:
HOW CAN WE. . .
Increase our production efficiency
Expand our consumer awareness
Improve our customer loyalty
Maintain & Develop our business relationships
Strengthen our strategy for the next fiscal year
Well, as people are moving away from the offline-basis of communications, hosting a corporate event may be the "special gift" your company needs. Providing a nominal, relaxed and seasonal event is an excellent way to boost overall business reputation and a great way to reward your hardworking team of hands. But why not go the extra step, why not surprise your employees, your loyal clients and your long standing business partners. With the new fiscal year approaching, and with the tax incentives of Section 179, your business has the potential to prepare well, in fact, so well you may change your nominal, seasonal corporate event into an astounding New Year's Celebration.
However, to pull this off your going to need visit lloydsofindiana.com for all of your laminating, binding, paper handling and graphic finish needs, and then you may want to gather some invitations from GoPromoting.com to keep your event planning at its best. 'And for the remainder of your party supplies, you may try a friendly, sociable store around your local area. Or you could just visit CustomPrintProducts.com for all of your specialty printed signs, banners and displays.
No matter what your plans are for this year's events–time is still ticking–and great savings and Section 179 Advantages end this year! So hurry up and get your planning done, and finalize those year end sales, its your time for fun.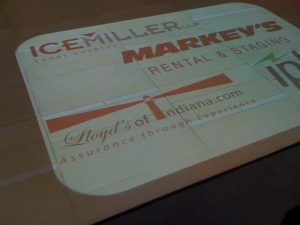 Lloyd's of Indiana is proud to sponsor Dress for Success Indianapolis 2011 at the J.W. Marriot Downtown Indianapolis.
The mission of Dress for Success is to promote the economic independence of disadvantaged women by providing professional attire, a network of support and the career development tools to help women thrive in work and in life.
Founded in New York City in 1997, Dress for Success is an international not-for-profit organization offering services designed to help our clients find jobs and remain employed. Each Dress for Success client receives one suit when she has a job interview and can return for a second suit or separates when she finds work.
In this series of posts, "How do I choose?", we will help you take a little of the guesswork out of selecting the best print finish product for your shop or office. It's sometimes difficult to find the right machine to fit your needs when there are so many models.
"We live in the digital age. The paperless corporation is upon us…" Yeah, I've heard that for a few years. There are still stacks of invoices, printed emails, memos, notifications from human resources, and project files ALL over my office. We live in the digital age, that's true, but we also live in the age of HIPPA regulations, corporate espionage, invasive audits, and big brother. There's simply a lot on paper that needs to be destroyed before the wrong person sees it.
But, which paper shredder should I get for the office? Does it matter that there are 50 employees on this floor? Or that bank account numbers are often on the forms that I shred? What about those boxes of old accounting files in the basement we plan on having the intern take care of?
Choosing a shredder is all about quantity and level of security. A strip-cut shredder like the Formax FD8600 will accept your feed quickly, but it won't be as secure and the container will fill up quickly. Cross-cut models like the Formax FD8500 will chop up your documents into a fine dust, but they simply take longer because they're working harder. Consider that feed speed. When there's a lot of archives to shred, you don't want to feed your machine ten sheets at a time. You don't want your employees spending all day away from their desk.
Then look at the extras. These days we don't just need to destroy paper. Consider a shredder with the ability to shred compact discs, credit cards and the occasional file that still has a paper clip attached. You want a shredder with the ability to do that without damaging the blades, auto cleaning and reverse functions are important features to include.
Lloyd's carries a line of Formax Office Shredders that each have great features and come in both strip-cut and cross-cut models. They all have a warranty on the cutting blades and can accept a varying number of pages. Use the compare feature in the list view to find the shredder for your office. The garbage disposal in the break room is just not going to work anymore.
In this series of posts, "How do I choose?", we will help you take a little of the guesswork out of selecting the best print finish product for your shop or office. It's sometimes difficult to find the right machine to fit your needs when there are so many models.
Ah, the business card. Still a valuable business tool after all these years. If you're a full-service shop, you're likely printing business cards for clients that use your other services. If you're not, you may be missing out. It's a nice little revenue stream that requires very little work, and even less up-front investment. That is… if you've chosen the right business card slitter.
But how do you do that?
When it comes to business cards, you must consider volume and automation. The more volume you expect, the more automated you probably want to be. Automated business card slitters like the HS-3000 will cut and stack 1,000 cards in five minutes ready to box and deliver. When you're doing cards for an entire company that's just gotten a new logo or street address, the speed and accuracy of a machine like this comes in handy.
Manual models are still efficient and are certainly not slow, and they have the advantage of being extremely economical. Lloyd's has a great selection of both manual and automatic card slitters.
The thing to consider when buying either model is the format in which you'll print the cards in the first place. 8-up, 10-up, 12-up, gutter, or no gutter are all options. Just remember, the flexibility and speed your print shop has in cutting business cards may just keep your customers from exploring purchasing one of these machines on their own. These machines are so easy to operate, they're also sold as "ideal for the office."
In this series of posts, "How do I choose?", we will help you take a little of the guesswork out of selecting the best print finish product for your print shop or office. It's sometimes difficult to find the right machine to fit your needs when there are so many models.
It all has to come together sometime. All those pages in the presentation, the employee manual, the book, the instructional guide, the schematics… They've all got to have some sort of binding to meet the customers budget, the readers needs and a style that looks good. But, what kind of binding machine do you need?
Well, the answer to this one is a little trickier. You may even want more than one machine. First you need to determine the type of binding that you think you'll use most often.
Once you've chosen a couple binding methods that you'd like to offer at your shop, consider flexibility, speed and cost.
You'll certainly find flexibility with a combo system. A single purchase will allow you to do both comb, wire or coil (depending on the machine). However, keep size in mind. With comb or coil systems, you may not want to limit yourself to standard 8 1/2″ x 11″, so investigate the machines that can accommodate 14″ or 17″ sheets. Speed is affected by manual or automatic operation and the number of sheets that can be punched at one time.
The most crucial consideration however, is the question of cost. What you can sell and what your customers are willing to pay for may limit your choices. A perfect binding system is expensive initially, but costs little in upkeep. The Unibind thermal system itself is inexpensive considering the nice end product, but supplies are comparitatvily high, per piece. So, remember not to merely look at the machinery that makes the binding happen. Look at the plastics and metals that make up the binding.